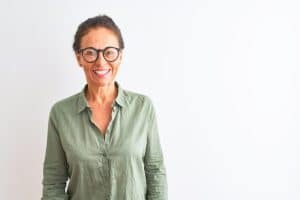 If you are diligent about cleaning your smile and seeing your dentist for preventive oral health services, you can control your risk for problems with dental decay. With that said, the unfortunate truth is that patients who feel confident in their commitment to oral hygiene can still experience issues with cavities. Even if you manage to avoid trouble with decay, a physical injury can make restorative dental work necessary. Our West Allis, WI dentist's office is ready to take care of your smile and oral health when a problem arises. When these issues affect a part of your smile that is hard for people to overlook, we can recommend restorations that actually blend in with your enamel and avoid unwanted attention.
Oral Health Issues Can Affect Your Appearance And Well-Being
When problems like tooth decay and gum disease affect you, they can harm both your smile and your general well-being. Trouble with cavities will cause permanent damage to your enamel. In time, an infection can form, which can lead to a change in the color of your tooth, problems with pain and sensitivity, and even swelling! Gum disease can lead to a heightened risk for tooth loss if it is not managed. While you should treat your oral health as a priority, you should remember that poor dental hygiene puts you at risk for smile problems, too!
Treating Problems Caused By Dental Decay
If you have a cavity that needs to be treated, we can help by providing a custom dental filling or dental crown. A filling is the more conservative treatment option that is available to you. When placed, it will only cover the space where your cavity formed, which means the surrounding enamel is left alone. When a larger cavity forms, we can use a dental crown to provide coverage. While the crown does take up more space and demand more preparatory work, this approach does ensure that a vulnerable tooth can stay healthy!
In the event that a cavity has become too large, we may have to arrange a tooth's extraction. In addition to providing this service, we can make plans to replace the tooth through implant dentistry.
Addressing Issues Caused By Physical Dental Damage
Physical damage to your tooth structure may not be severe enough to require restorative dental work. Instead, you can arrange to have the problem resolved through cosmetic dentistry. Cosmetic services limit the amount of changes to your tooth structure so that you can feel more comfortable with your appearance. However, if the problem is serious enough we can recommend restorative services to protect the tooth.
Talk To Your West Allis, WI Dentist About Scheduling Restorative Dentistry
Stubbs Family Dentistry is prepared to help when patients experience difficulties with their oral health. To find out what we can do for you, call our dental office in West Allis, WI at 414-541-8250.