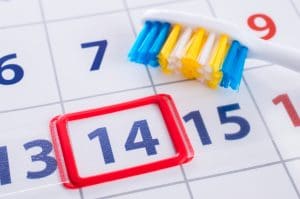 Are you asking too much of your daily oral hygiene routine? You should feel confident that your oral hygiene routine and diet choices are keeping you safe against problems that could affect your dental health. However, you should also recognize the value of seeing your dentist for regular checkups. Our West Allis, WI dentist's office is prepared to help you maintain your healthy smile by offering general dental services on an ongoing basis. Through careful cleanings and diagnostic reviews, we can help you keep your smile healthy! We can also provide the appropriate restorative dental treatment if a problem is identified during an appointment.
Are You Staying Informed About Your Dental Health?
If you are not receiving regular updates about the health of your smile, you can allow problems to form and worsen without meaning to. Eventually, a problem can grow severe enough to send you to your dentist for help with a problem like swelling, pain, or dental discoloration. While our practice is certainly ready to help those who have seemingly serious problems with their dental health, remember that you can avoid these alarming problems by having issues caught and treated early. With the support of your regular teeth cleanings, you can also make yourself less likely to develop new issues.
The Value Of Careful Diagnostic Reviews
Thanks to the technology we have on hand, we can thoroughly examine your teeth and see if you might need treatment for decay. The diagnostic technology we have on hand includes digital x-rays and lasers to assist with cavity detection. These tools reveal more than can be seen through a visual examination. By catching a problem early, we can limit the amount of damage done to a tooth and provide treatment with a small, conservative dental filling!
What To Expect If You Need Restorative Treatment After Your Exam
The kind of care a person needs for dental decay will depend on what condition their tooth is in. If you have taken a long break from seeing the dentist, you may learn that you have multiple cavities that have to be treated. In a cavity's most advanced stage, treatment can actually demand the removal and replacement of your tooth. In other circumstances, treatment can involve the removal of decay and the placement of a dental filling or crown.
Set Up Your Next Regular Dental Exam At Stubbs Family Dentistry
At Stubbs Family Dentistry, patients receive thorough care whenever they come in for a routine appointment. In the course of a visit, we provide a detailed cleaning as well as a review that relies on advanced imaging technology. If you have questions, or if you wish to make an appointment with us, please contact Stubbs Family Dentistry in West Allis, WI at 414-541-8250.