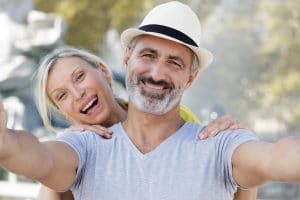 Just one unhealthy tooth can make it more difficult for you to bite and chew, particularly if there is an issue with infection or physical harm. When you are not able to bite and chew food comfortably, you can develop a compromised bite that leads to chronic pain, and you can also start to overuse teeth and wear them down. Our West Allis, WI dentist's office is prepared to help you if you find yourself in need of dental treatment. We can work to protect a tooth by removing damaged or infected tissues before providing a permanent appliance for support. Once this work is complete, you should be able to bite and chew comfortably. If you have a problem with a recent restoration, or with an older one that is starting to feel uncomfortable, bring the matter up as soon as possible.
A Problem With Your Bite Can Create Several Concerns
If you are not able to bite and chew in a way that feels natural and comfortable, several problems can arise in time. You may be putting more pressure than you realize on some of your teeth, and that can lead to friction that weakens them. This can make them more susceptible to damage, and it may cause visible wear to occur. You may also start to experience problems because of stress on your jaw joints and muscles, which can lead to pain.
What To Expect When You Undergo Restorative Work
In addition to providing preventive dental care to help patients avoid trouble, we can step in and provide treatment if something is wrong with your smile! Dental injuries and cavities lead to problems that will worsen until they are addressed. After a review, we can recommend an appropriate restoration – a dental filling for smaller problems, or a dental crown for teeth that require more support.
How Prosthetic Dental Work Fits Into A Plan To Fully Restore Your Smile
If a cavity has done too much damage, or if a tooth is badly damaged, there may not be a way to save it. What can happen instead is your dentist can arrange to safely remove and replace it. Through the use of a dental implant, we can put a prosthetic appliance in place to keep a restoration set. Over time, that implant-held appliance can aid you in sustaining a natural bite function. It can also stimulate your jawbone to keep it from deteriorating over time.
Talk To Your West Allis, WI Dentist's Office About Restoring Your Smile!
Your West Allis, WI dentist's office is ready to help patients who require restorative dental work. If there is a problem with your smile that requires attention, we are ready to help! Learn more by calling Stubbs Family Dentistry at 414-541-8250.