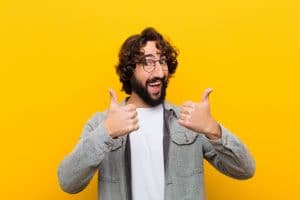 Dental treatment can be divided into several different branches of care. General dentistry focuses on preventive treatment, children's dentistry, and problems like bruxism. Restorative dentistry includes dental fillings and crowns to repair damaged teeth. This coincides with prosthetic dentistry, which uses prosthetics to repair tooth loss. There's also cosmetic dentistry, which focuses on the appearance of your teeth. While you can choose procedures that are strictly cosmetic, any dental procedure can also keep the esthetics of your smile in mind. Does your dentist take a cosmetic approach to dental treatment?
Dental Crowns and Fillings Can Add Cosmetic Benefits
Restorative dentistry is all about repairing damage to teeth. Dental fillings can restore the structure destroyed by a cavity. If your tooth becomes broken, or you need root canal therapy, a dental crown can cover the structure of that tooth and keep it safe. While these treatment methods are all about restoration and protection, they can still add cosmetic benefits. Using life-like dental porcelain or tooth-colored resin ensures that your repaired teeth blend in with the rest of your smile. You want your teeth to be healthy, but that doesn't have to come at the expense of your smile.
Porcelain Dental Veneers Provide a Versatile Cosmetic Solution
You can choose procedures that are strictly cosmetic as well. Porcelain dental veneers are one such option, and they're incredibly effective and creating a beautiful, symmetrical smile. Porcelain veneers are thin sheets of dental porcelain that your dentist fabricates to match one another and fit your teeth. Veneers can be used to correct issues with the size and shape of your teeth. If those issues are functional, you may want a more substantial treatment to address them, but if your teeth simply look a little uneven or disproportionate, dental veneers can help.
Bring Up Cosmetic Treatment During Your Visit
If you have a particular issue with the appearance of one or more of your teeth, you should talk to your dentist about it. Many dentists offer complimentary cosmetic consultations. If you can describe what you like and don't like about your smile, your dentist can create a cosmetic treatment plan that addresses those issues. You can also bring up any cosmetic concerns or thoughts when undergoing restorative or prosthetic treatments. Feel free to let your dentist know your goals and needs so that they can choose the right treatment for you.
Schedule a Cosmetic Consultation at Stubbs Family Dentistry
At Stubbs Family Dentistry, we take a big-picture view of your overall health and your oral health. We provide treatment that helps our patients live better lives. One aspect of that treatment is our focus on esthetics. Whether we're completing a cosmetic or restorative procedure, we always keep the appearance of your teeth in mind. Schedule a complimentary cosmetic consultation at Stubbs Family Dentistry in West Allis, WI by calling 414-541-8250.