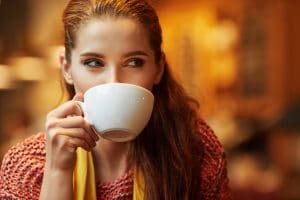 The yellowing of your teeth may concern you. No one likes to have a smile that is off-color and unphotogenic. If you're worried about your teeth staining for medical reasons, you probably don't need to be. Some forms of intrinsic staining (stains that come from inside the teeth) can be cause for medical concern, but most teeth staining is extrinsic. This means that the staining is coming from outside. Your dental enamel is strong, but it's also porous. Little particles of pigment can get trapped inside, and over time, that leads to teeth staining. Professional whitening through your dentist can fix the problem.
Pigment Comes from Everything You Consume
Pigment is what colors the food and drinks you consume, and certain forms of pigment may be more likely to stain your teeth. Drinks like soda, tea, and coffee can contribute to staining because you're likely to consume them on a daily basis, and the residue of these drinks may sit on your teeth for hours. This increases the amount of pigment that is absorbed by your teeth. You can reduce staining by brushing your teeth after meals, or after drinking these products, to get rid of the pigment. You can also swish water around in your mouth after drinking coffee, soda, or tea.
Professional Teeth Whitening Bleaches Pigment from Your Teeth
While you can take steps to reduce the amount of staining that you experience, once your teeth have yellowed, whitening treatment can help. Most forms of professional teeth whitening use a bleaching agent, applied to your teeth, to remove the pigment that has built up inside. You will receive a set of whitening trays that fit the contour of your teeth. You'll apply a small amount of bleaching agent to the trays and then wear them for a prescribed amount of time (to be determined by your dentist). Doing this on a daily basis can dramatically whiten your teeth in a matter of weeks.
Intrinsic Stains Can Be Corrected with Veneers
Intrinsic staining may be an indicator that another issue is happening with your teeth. Your dentist can address any medical concerns that you may have, and when it comes to whitening your teeth, dental veneers may be an option. Dental veneers are thin sheets of dental porcelain that are bonded to the surfaces of your teeth. Veneers can be used to brighten your smile, and they can also be used to provide you with a straighter, more proportional smile. If you'd like to learn more about dental veneers, you should talk to your dentist.
Talk to Dr. Stubbs About Professional Whitening
Professional teeth whitening can offer dramatic results that improve the color and appearance of patients' smiles. If you want to learn more about professional teeth whitening, talk to our team at Stubbs Family Dentistry. During a cosmetic consultation, we can discuss your goals for your smile and prescribe the right treatment for your individual case. Schedule your initial cosmetic consultation by contacting Stubbs Family Dentistry in West Allis, WI by calling 414-541-8250.