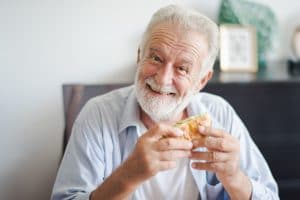 If you've suffered from tooth loss, you want to replace your missing teeth so that you can get back to smiling and eating comfortably. A dental prosthetic can restore your missing teeth, allowing you to recover. Different dental prosthetics can be used to address different degrees of tooth loss, but they don't all have the same features. Dental implants are durable, free-standing options that come with fewer restrictions than other dental prosthetics. You'll enjoy bite power comparable to what your natural teeth provided. Choosing dental implants allows you to enjoy a comfortable oral health future.
Dental Implants Are Free-Standing Dental Prosthetics
The biggest differentiating quality that dental implants provide compared to other dental prosthetics, is that they're free-standing. Your dental implants are surgically implanted into your jawbone, meaning they don't rely on the structure of other teeth for stability. Dental bridges and dentures use the structure of other teeth and adhesive, respectively, to hold the prosthetics in place. Dental implants can often strengthen your jawbone and keep your other natural teeth in alignment. That has big implications for your quality of life moving forward.
Dental Implants Achieve Better Bite Power, Creating Fewer Restrictions
Because your dental implants are rooted in your jawbone, they are more reliable than other prosthetics. That means that you can comfortably eat hard or crunchy foods that you enjoy without the risk of your prosthetic slipping in your mouth. Patients who have suffered tooth loss often have to implement dietary restrictions. You can lift those restrictions with your completed dental implants in place. The structure and alignment of your teeth also impact one another. Gaps in your smile may cause your remaining teeth to shift. That's why it's important to address tooth loss as quickly as possible.
Precision Matters During Dental Implant Surgery
When you move forward with dental implant surgery, you'll want to work with an experienced oral surgeon. Precision is important during implant surgery, because it leads to less discomfort and a shorter recovery time. An experienced dentist knows how to minimize the invasiveness of the procedure. Furthermore, precision matters when it comes to the placement of your dental implant. You want to be sure that your implant is set at the correct angle to fit alongside your other teeth and align with your bite.
Trust the Dental Implant Experience of Dr. Stubbs
Experience makes a difference in the quality of your experience when receiving dental implants. Dr. Stubbs has completed numerous continuing education courses in dental implant placement both domestically and abroad. Patient experience matters to our team at Stubbs Family Dentistry. For a dental implant consultation, contact Stubbs Family Dentistry in West Allis, WI at 414-541-8250.