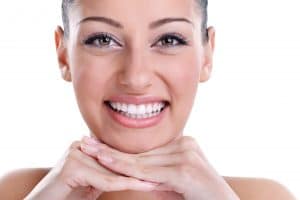 Making cosmetic adjustments to your teeth isn't actually as involved as you might think. Many cosmetic procedures can be performed quickly and to great effect. How would you like to change your smile? Could your teeth be straighter? Do you wish they were a more uniform size? Would you like to have a whiter, brighter smile? You can achieve all of these cosmetic goals with a single procedure. Porcelain dental veneers are a transformative cosmetic treatment that can totally revamp your smile. If you haven't looked into porcelain dental veneers for your smile, it's time to learn more.
Dental Veneers Are Made of Thin Layers of Porcelain
A dental veneer is just what it sounds like. It's an exterior layer that your dentist can add to create a more uniform appearance to your teeth, improving the appearance of your smile. Dental veneers are made of thin sheets of porcelain. These sheets are fabricated based on measurements taken of your actual teeth, so they'll look cohesive once placed. Before your dentist places your dental veneers, they will first smooth out the surfaces of your teeth to ensure a smooth connection. Once in place, you can care for your teeth like you normally would.
Dental Veneers Erase Cosmetic Deficiencies Right Away
Porcelain veneers are a great choice for many patients because they address so many cosmetic issues immediately upon treatment. Dental veneers can be used to straighten the appearance of anterior teeth, giving you a straighter smile. Veneers can also be used to create a proportional appearance to your smile. If you have teeth that are proportionally larger or smaller than the surrounding teeth, veneers can correct this issue. Finally, porcelain dental veneers can be used to create a whiter, brighter smile while retaining a lifelike appearance.
Preparing Your Teeth for Cosmetic Treatment
It's important to note that while porcelain dental veneers can transform the appearance of your smile, they cannot affect the health of your teeth. Veneers present a surface adjustment, but you'll need to make sure that your teeth themselves are healthy. Before your dentist begins any cosmetic treatment, they will want to address outstanding oral health issues that you may have. If you've got cavities or signs of gingivitis, you need to seek restorative treatment for these issues before you can focus on cosmetic treatment.
Find Porcelain Dental Veneers in West Allis, WI
At Stubbs Family Dentistry, we want your teeth to look and feel their best. If you've got any oral health issues, we can address those efficiently and effectively. We work with a high-end dental lab to fabricate our porcelain dental veneers, so you'll experience lifelike cosmetic improvement afterward. Schedule a cosmetic consultation with Stubbs Family Dentistry in West Allis, WI by contacting our office at 414-541-8250.