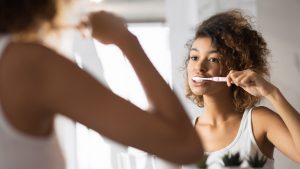 Everyone would prefer to have a healthy, happy smile that lasts throughout their life. However, that doesn't always happen. The biggest reason why? Patients stop taking the preventive steps that would stop these conditions from developing. Preventive dentistry doesn't have to be complicated, it's mostly a matter of consistency. Gum disease and tooth decay are conditions that develop slowly over time. They're the result of unchecked bacteria wearing away at your tissues. If you brush your teeth, floss, and visit the dentist, you will dramatically reduce your risk for these conditions.
Let's Talk About How You Brush Your Teeth
You probably have a certain home hygiene routine that you stick to on a daily basis. Hopefully that includes brushing your teeth — ideally, at least twice per day. If you're not already doing this, that's a good place to start. You should also focus on how you're brushing your teeth. Are you using an electric toothbrush? This technology can make your brushing much more effective. Are you focusing on brushing around and away from the gum line? It's crucial to keep this part of your mouth clean. Make sure that brushing your teeth isn't just a mindless activity that you toss into your routine!
Make Flossing a Priority in Your Home Care Routine
You also need to make sure you are flossing. This is something you've been hearing from your dentist and hygienist for a long time, but that's because it's an important step! Flossing allows you to reach the surfaces of your teeth that brush bristles can't readily access. Bacteria can form on any surface, so you need to clean every surface on a regular basis to prevent the buildup of plaque that can cause decay and gum disease. 
Dental Visits Are Important for Preventing Gum Disease and Tooth Decay
Finally, you need to pair a strong home care routine with regular visits to the dentist. You should be making biannual appointments at your dentist's office for preventive care and screenings. During the visit, you'll receive a professional cleaning to remove the buildup of bacteria in areas that may be difficult for you to reach on your own. You'll also receive an examination so that your dentist can determine whether or not any problems are developing with your teeth or gums. Your dentist can also take this time to screen for conditions like oral cancer.
Schedule Preventive Appointments at Stubbs Family Dentistry
Michael Flynn is a dentist who is committed to health-conscious oral care. Dr. Stubbs wants you to enjoy a happy, healthy smile throughout your lifetime. The best way to do that is by staying in front of oral health conditions. Schedule a preventive dentistry appointment at Stubbs Family Dentistry in West Allis, WI by calling 414-541-8250.