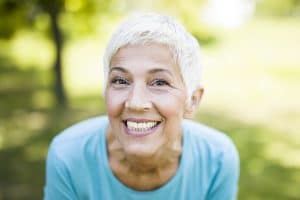 No one wants to live a life without their teeth. When you suffer from tooth loss, recovery is a must. However, options like dentures can sometimes come with chronic discomfort. Dentures might not always fit your mouth just right. They can slip while eating or speaking, causing embarrassment or pain. You're happy to have the replacement option, but it would be nice if you could have a tooth replacement that didn't come with so much discomfort. If you want to avoid an uncomfortable tooth replacement scenario, it's time to consider dental implants.
Dental Implants Are Surgically Set, Making Them Stable
Perhaps the biggest advantage that comes with dental implants is the fact that these prosthetics are surgically placed in your jawbone. This eliminates all of the uncomfortable slipping and shifting. When you receive your dental implants, your dentist will set a titanium post in your jawbone, strengthening the bone, and creating a root-like structure that will improve your bite power and comfort. The implants provide stability and durability for you as you recover from tooth loss.
If You Need to Replace Many Teeth, Dental Implants Can Be Combined with Dentures
You may be on board with the idea of dental implants, but if you need several teeth replaced (or even all of the teeth on a dental ridge), you may not think that dental implants are a viable option. After all, your jawbone can only support so many surgical alterations. Dentures may be the most efficient way to repair your extensive tooth loss, but you don't have to rely on dentures alone. Your dentist can use dental implants in concert with dentures to provide increased stability and comfort to your prosthetic. Using several implants as a base, your dentist can mount the dentures to the implants to create a more sturdy fit.
Your Dentist's Experience Matters
When you decide to move forward with dental implants, you'll need to choose a dentist to help guide you through the process. The experience of that dentist is important. Not all dental procedures are the same, and the placement of your dental implants will determine how comfortable the experience is. You should seek out a dentist who has extensive experience with dental implants and combining those implants with other treatments. This is the best way to ensure you have a good experience.
Receive Your Dental Implants at Stubbs Family Dentistry
Dr. Stubbs has taken numerous workshops and courses, both domestically and abroad, to further his knowledge of dental implants. Dr. Stubbs has helped many patients recover from tooth loss and enjoy a life with a healthy set of teeth. Schedule a consultation for dental implants at Stubbs Family Dentistry in West Allis, WI by calling 414-541-8250.