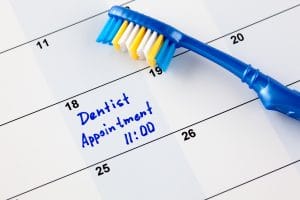 If the answer to this question isn't, "Sometime in the last six months," then it's time to make another appointment. Dentist appointments are an important defense against tooth decay and gum disease, conditions that can destroy your teeth and create lifelong problems. You only have one set of adult teeth, so it's vital that you care for them as best you can. Putting off treatment won't cause any cavities or infections to go away, it will only make them worse. Make your dentist appointment now to ensure that you treat any ongoing problems, and prevent any future problems too.
Do You Attend Biannual Dentist Appointments?
Most dental insurance programs allow for two complimentary dentist appointments per calendar year. If you don't have dental insurance, many dentists will work with you to ensure you receive treatment. Making these preventive visits twice a year is the best way to prevent costly treatment in the future. A checkup and cleaning is much faster and more cost effective than receiving root canal therapy or a dental crown later. If you aren't currently in the habit of attending biannual dentist appointments, it's time to make a change for your oral health.
Your Dentist Has Tools to Help Make Your Visit Comfortable and Easy
While your dentist can effectively repair and replace damaged teeth, your dentist also has tools to help with preventive care. Digital x-rays provide highly detailed images of your teeth, allowing your dentist to see the structure of your mouth. This can help him or her spot hard-to-see cavities and andy structural changes with your teeth and bite. Your dentist can also use the power of fluorescence to look for cavities. Laser cavity detection helps your dentist spot problems earlier, allowing for faster, less-extensive treatment.
Gum Disease Is Another Concern for Oral Health
You may look at your own teeth and think, "They look fine, I don't need to visit the dentist." However, conditions like tooth decay and gum disease are progressive. They continue working over time, and you may not see the signs of damage right away. Your dentist can screen for cavities and gum disease during your visit. A condition like gum disease can worsen from gingivitis to periodontitis over time. Periodontitis leads to loss of jawbone mass, and the condition is irreversible — you'll have to manage it for the rest of your life. Attending regular dentist appointments helps you steer clear of these types of situations.
Schedule a Dentist Appointment at Stubbs Family Dentistry
Dr. Stubbs wants your teeth to stay healthy for life. Dr. Stubbs and his staff embrace modern technology that makes your dental visits more comfortable. You'll feel good about the state of your teeth after regularly attending checkups and cleanings. Schedule your next appointment with Stubbs Family Dentistry in West Allis, WI by calling 414-541-8250.