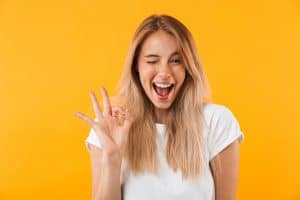 A fear of what the dentist might find keeps many patients away, when in fact, avoiding the dentist is the worst thing they could do. Do you suffer from tooth pain? Do you know that bacteria have caused damage to your teeth? Then making a dentist appointment right away is the best thing you can do for your teeth. Your dentist has access to restorative treatments that can repair your smile, and your ability to use your teeth. Dental crowns fit over damaged teeth to restore their appearance and their function.
Don't Feel Self Conscious About Your Smile
If a particular tooth is giving you trouble — if tooth decay has caused the tooth to become a blight on your smile, then it's time to see the dentist. You don't want to live life self conscious about the state of your teeth. If your teeth cause you to cover up your own smile, there's no telling how many negative social consequences this can cause. Talk to your dentist about options, like a dental crown, that can restore the beautiful, natural appearance of your tooth. You deserve to love your smile.
If Your Teeth Are Preventing You from Enjoying Meals, Talk to Your Dentist
The same goes for the function of your teeth. If you're not able to use your teeth to chew and enjoy foods, then there's a problem! Most likely, your dentist can quickly and effectively fix the problem with a dental restoration. A dental crown fits over a damaged tooth, giving you the feeling of a healthy, natural tooth. That means a complete chewing surface, and protection for the tooth that was giving you problems. If your teeth are causing you to dread meal times, or skip out on your favorite foods, then it's time to talk to your dentist.
Dental Crowns Are Made Using Measurements of Your Teeth, So They Fit You
Some patients worry that seeing their dentist will only lead to more pain, but this is a dangerous assumption. Tooth decay is a progressive condition, so the longer you do nothing about the problem, the worse the problem will get. Your dentist will clean your damaged tooth, and provide a restoration. Dental crowns are fabricated using precise measurements of your existing teeth, so the new crown will accurately cover your damaged teeth, and comfortably fit alongside your other teeth. This restoration will help you get back to enjoying yourself!
Stubbs Family Dentistry Uses Restorative Dental Treatment
Avoiding the dentist is one of the biggest mistakes you can make. You don't want to compound your oral health problems. Learn about solutions, like a dental crown, that can help you recover from serious tooth decay. The team at Stubbs Family Dentistry can fit you with a custom-made dental crown for your vulnerable tooth. Schedule a consultation by contacting Stubbs Family Dentistry in West Allis, WI at 414-541-8250.