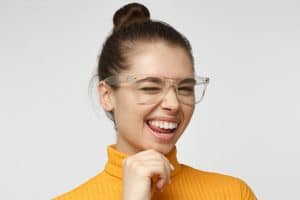 How do you feel about your smile? Do you find that you light up in photographs and conversations? Or does anxiety about the state of your teeth hold you back from sharing your beautiful grin with the world? If you would like to feel better about the appearance of your smile, there's good news. Modern dental treatment makes it easy to brighten your smile with teeth whitening. Your teeth are bound to pick up stains over the years. Based on the foods and drinks you consume, as well as your lifestyle habits, these stains may be more or less severe. Luckily, those stains don't have to be permanent. You can use the aid of teeth bleaching and whitening to remove discoloration.
Teeth Whitening Creates a Smile that Dazzles
Your dental enamel is porous, meaning that chemicals that come from darker foods (called chromogens) can make their way underneath your enamel. Acidic foods can increase the size of the pores in your enamel, making more room for this discoloring chemicals to enter. These extrinsic stains are common, but you can fight back. Teeth whitening reverses this process using bleach to eliminate that dark color that has harmed your smile.
Professional Teeth Whitening Can Be Completed on Your Time
The best part about the teeth whitening process is that you can perform the treatment on a timetable that works for you. Your dentist can provide you with a home whitening kit. Using the trays in this kit, you can apply whitening bleach for a few hours at a time, whenever your schedule allows. You'll find that even just a few weeks of treatment on your own timetable will have your teeth looking whiter and more radiant.
Trust Stubbs Family Dentistry for Teeth Whitening
If self-conscious feelings about your smile have been holding you back from sharing your smile with the world, it's time to explore teeth whitening. Talk to Stubbs Family Dentistry about a professional option that you can administer on your own time. You'll walk away with a solution that works for you on every front. To make an appointment for teeth whitening, contact Stubbs Family Dentistry in West Allis, WI at 414-541-8250.