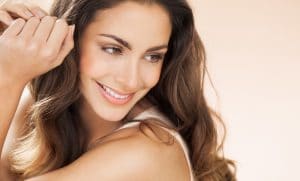 If you feel self conscious about your teeth, you're less likely to open up in public. Your smile is how you show off your personality, so you deserve to have confidence in the appearance of your teeth. Don't feel overwhelmed if your smile needs a little bit of help; you're not alone. The good news is, cosmetic dentistry presents a buffet of options for improving the shape, uniformity, and brightness of your smile. It's up to you and your dentist to decide on the best way to proceed, because every case has a different need. Whether it's a tooth-colored filling, teeth whitening treatment, porcelain veneers, or a dental crown, a great smile just around the corner.
Tooth-Colored Fillings Provide Cosmetic and Health Improvements
If you've suffered from tooth decay, you probably have a cavity acting as a blight on your teeth. You don't want people to see that black spot, and you definitely don't want your tooth decay to get worse. A tooth-colored filling provides a cosmetic and functional solution. Your filling will blend in with the appearance of the rest of your teeth. It will also serve as a buffer against future decay.
Teeth Whitening Is a Cosmetic Treatment for At-Home Use
Everyone's teeth fall victim to staining and discoloration eventually. It's a byproduct of wear. An at-home whitening kit allows you to safely whiten your teeth over time from the convenience of your own home. This cost-effective treatment method is a great way to brighten your smile.
Porcelain Veneers Can Correct for Misshapen Teeth
Porcelain veneers are another wonderful cosmetic option for teeth that are misshapen or slightly damaged. Veneers can create a uniform smile that is camera-ready. Your dentist can even provide you with veneers that lighten the appearance of your teeth by a few shades.
Dental Crowns Aren't Just a Restorative Option
While dental crowns serve an important function when it comes to restoring and protecting a tooth, they also provide a cosmetic benefit. If you have a damaged tooth that has been cracked or severely decayed, your dentist may prescribe a dental crown. This restoration also replaces the damaged tooth from an appearance standpoint.
Talk to Your Dentist About Cosmetic Options
If you've been holding off on improving the quality of your smile, or you simply thought it wasn't possible, think again! Talk to Dr. Stubbs and his staff about your options for cosmetic treatment. Everyone deserves to love their smile. Schedule a cosmetic consultation by contacting Stubbs Family Dentistry in West Allis, WI at 414-541-8250.