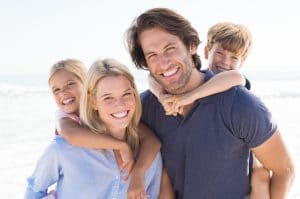 The holidays are here, which means family time, good food, and the Christmas card photo shoot. If you have control of your own destiny when it comes to the family Christmas card photo (some parents just pick a photo of kids at random!), you'll want to take advantage by looking your best. You don't want to dread your friends and extended family members putting a less-than-flattering photo of you on their fridge for the next calendar year. And you absolutely don't want to feel self-conscious during your holiday card photo shoot. You want to proudly bestow your Christmas cards to all who will have them. Here are some tips for looking your best in this year's picture.
Wear Something Presentable, but Comfortable for Your Christmas Card Photo Shoot
Wardrobe is a tricky area for any photoshoot. You want to match the aesthetic of the other people in your picture, but you don't want to wear anything that will end up looking dated. The best policy for holiday photo shoots is to look presentable, but comfortable. You want to wear something you'd actually wear in your everyday life. Picking clothing you actually like will help you feel more comfortable during the shoot.
Make Sure Your Smile Is Up to Snuff
Is your smile Christmas-card-ready? You can't radiate confidence if you don't believe in your smile. A missing or chipped tooth, or yellow teeth can really put a damper on holiday cheer. That's why it's important to visit your dentist and keep your smile at its very best. If you haven't been in for a while, it's time for a checkup. Routine maintenance, restorative, and cosmetic procedures can help your smile stay at 100% so that you look your absolute best in this year's Christmas card photo.
Is it Time to Visit the Dentist?
The holidays are a busy time for everyone. If you want to look your best for this year's holiday season, now is the time to schedule an appointment at your West Allis area dentist. Dr. Stubbs can help you feel confident in your smile year round with professional council and state-of-the-art care. To schedule an appointment, contact the Stubbs Family Dentistry office in West Allis, WI at 414-541-8250.