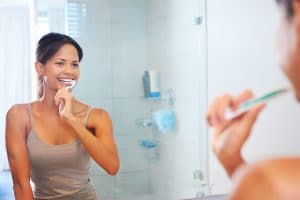 If you're on top of your oral health game, you probably see the dentist twice yearly for a cleaning and checkup. That's great! Your dentist can take a look at your teeth and gums and call attention to any problem areas. A cleaning can remove plaque and tartar buildup, and you'll leave the office with a clean mouth. However, relying on the dentist to keep your teeth in tip-top shape isn't enough. It's what you do in between those visits that will make the difference. Oral health is a year-round responsibility, and remember: healthy teeth now aren't a guarantee of healthy teeth in the future.
Responsible Oral Health Care Requires a Routine
It can be easy to shirk your dental health responsibilities from time to time. Maybe you brush twice a day, but don't floss at all. It's not a habit. A routine is exactly what you need to stay on top of cleaning. You wouldn't leave the house without wearing shoes, so give brushing your teeth and flossing the same level of importance. You can't go to bed without following up on your oral health routine. Adopting a routine will help you form good habits that will serve you for life.
Tooth Decay Is a Long-Term Problem that Develops Over Time
While you may be getting by just fine for now, oral health is a long game. You've got to keep up with your cleaning routine and take advice from your hygienist and dentist when it comes to cleaning. Your gums may be fine now, but if you never adopt a flossing regimen, things can change over time. Decay is a process that works in aggregate. You only get one mouth, so make sure you protect it!
Ask Your Dentist to Make Sure Your Oral Health Regimen Is Up-To-Date
Consult with your dental health care professional to find out the best practices for keeping your mouth healthy and clean. Located in West Allis, WI, Michael E. Flynn, DDS, and his talented team of dental care professionals proudly welcome patients from West Allis, Brookfield, Wauwatosa, and all Western Milwaukee communities. To learn more, or to schedule a free "get acquainted" appointment, call our dental office today at 414-541-8250.