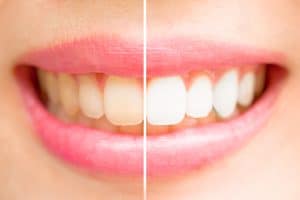 We often talk to our clients about brightening smiles. Discoloration can cause embarrassment and we look forward to the opportunity to help patients enjoy a more attractive smile. We have a unique professional whitening system that can lift stains from home with a reduced risk of discomfort and sensitivity.
Frequently Asked Questions About Brightening Smiles from Home
Question: How does at-home teeth whitening work?
Answer: Frist, we take impressions in order to create a set of custom-made plastic trays. We will then provide the patient with a bleaching gel. At home, the patient will fill the trays with gel and wear them for between a half hour and 45 minutes per day, depending on that we recommend. Total treatment takes about one to two weeks. However, the exact time will depend on the extent of your discoloration.
Question: How do I prevent further teeth stains?
Answer: You can start by changing how you eat and drink. Foods high in sugar and other starches can promote plaque buildup, making discoloration more apparent. In addition, drinks with dark pigments (such as soda, tea, red wine, and coffee) can stain the teeth. You should also take steps to care for your smile, brushing twice a day and flossing every night. We also urge patients to undergo a professional cleaning every six months. These actions can help your teeth stay brighter for longer periods.
Question: Can I keep the trays and remaining gel?
Answer: Yes! You can keep them and use them to touch up your smile after a few months. On average, discoloration can begin to reappear after about six months. If you have any questions about fighting discoloration and keeping your smile healthy and bright, then please contact our team today.
Do You Want to Learn More About Teeth Whitening?
If you have discoloration, we can help you obtain a brighter smile. To learn how dental implants can replace more than just your smile, schedule your free consultation by calling Stubbs Family Dentistry in West Allis, WI, today at 414-541-8250. We also proudly serve patients living in West Allis, Brookfield, Wauwatosa, and all Western Milwaukee communities.