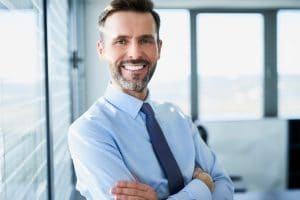 Ideally, restorative dental care will be able to fully protect your oral health without disrupting your appearance. If you have a problem that seriously impacts your tooth, like a larger cavity, or physical harm, a dental crown can provide you with vital support. There are several different material types to choose from, including porcelain, to construct your crown. Porcelain is important for patients worried about how they look, as these crowns will fit in naturally with your smile. If you have a back tooth that requires a crown, one made from metal can offer important additional durability, so that these teeth have the care they require.
Why Do I Need A Dental Crown?
Many people will come in for cavity treatment and wind up with a dental crown. This is not always what is required for a cavity – if the amount of decay is limited, your dentist can provide care with a filling. You may find yourself needing a crown not because of a cavity, but because of physical damage. If a tooth structure is harmed, a crown can protect you from infections, and restore your biting and chewing functions.
How Can I Avoid Problems That Make Crowns Necessary?
If you want to limit your risk for needing restorative care, pay attention to the kind of general dental care you enjoy. Regular appointments with your dentist, and smart daily practices that keep your teeth healthy, will lower your cavity risk. You should also remember that your diet is a factor when it comes to your cavity risk. Cutting sugar will help keep your teeth healthy, as will limiting your consumption of acidic products. Foods and drinks that are more acidic can weaken your enamel, making cavities more likely to form.
Talk To Dr. Stubbs If You Need A Dental Crown
If you need a dental crown, you can count on expert care from Michael E. Flynn, DDS. Our office is dedicated to maintaining the highest quality oral care for our patients. We are proud to serve patients from West Allis, Brookfield, Wauwatosa, and all Western Milwaukee communities. To learn more, or to schedule a free "get acquainted" appointment, call our dental office today at 414-541-8250.