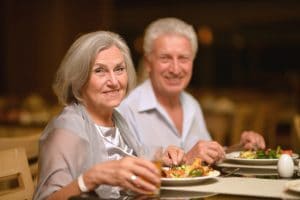 If you have suffered from adult tooth loss, then you know all too well how difficult it can be to smile confidently, much less to chew comfortably, when you are struggling with an incomplete smile. Fortunately, dental implants provide a stable way to complete the smile, both cosmetically and functionally. That means you no longer have to settle for an incomplete smile, or one that doesn't function as well as it should. A dental implant could help you smile confidently again, and enjoy your meals without worrying about missing teeth or ill-fitting prostheses.
Enjoy Stable Smile Completion with an Implant
While there are a number of forms of smile completion, only implants help to replace both the missing tooth and its root. They do so using mimic roots, which are surgically inserted into the jawline, to help stabilize a replacement tooth. There they also help to provide nutrients to the jaw during the chewing process. This helps the jaw maintain its structure over time.
Implants can be used in conjunction with replacement teeth, partial or full dentures, or even dental bridges, making them incredibly versatile as forms of smile completion. They are also considered the most stable and permanent solution for addressing adult tooth loss.
Is An Implant Right for You?
Whether you have recently lost a tooth, had one extracted, or are simply ready to update your prostheses to something more stable and secure, an implant could be a great option. That said, the gums must be healthy enough to support the mimic tooth root. So it's important to schedule a consultation with your dentist, to see if you are a good candidate for an implant.
Ready to Complete Your Smile?
Don't settle for an incomplete smile. Instead, schedule a prosthetic consultation with Flynn Dentistry, by calling Michael E. Flynn, DDS, in West Allis, WI today at 414-541-8250.