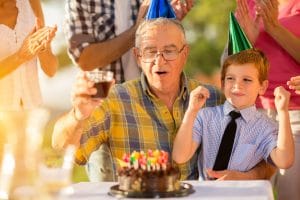 Are your grandkids the key to you feeling young all over again? In fact, do you love nothing more than spending a day with them, at the park or zoo, or really anywhere you can have quality time together? What about sharing meals, together? Is that the only time you struggle to keep up with them, thanks to an incomplete smile or an ill-fitting prostheses? After tooth loss, many adults struggle with smiles that no longer function properly or inspire confidence. Fortunately, a restorative dentist can help you restore your smile cosmetically and functionally, so you can feel young, all over again.
Look and Feel Your Best with a Modern Prostheses
Partial and full dentures remain one of the most popular ways to complete a smile after tooth loss, and they do have their benefits. They tend to be the fastest to complete and most affordable options for treatment. However, they are not the only option for completing the smile.
Actually, many patients find that they prefer the added stability of either a dental bridge or dental implant, both of which allow for increased security while chewing and smiling.
Enjoy Meals, At Last
Bridges use porcelain crowns affixed to remaining teeth, to help hold a replacement tooth firmly in place. Thanks to crowns' customizability, they are also a seamless-looking restoration, that allows patients to smile confidently.
Dental implants are unique in that they are the only prostheses that use a titanium post to help hold a replacement tooth properly in place. Posts must be surgically placed. Then the soft tissue can grow right around them, allowing for a permanent base on which a replacement tooth can be affixed.