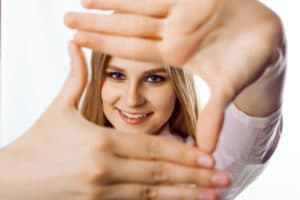 When you look in the mirror do you fixate on the noticeable stains that have caused your smile to look dingy and dated? The foods and drinks you enjoy can stain the porous surface of your teeth's enamel, over time, leaving your teeth looking less-than-pearly white. The good news is that whether your teeth are yellow, grey or simply dark because of dental stains, professional teeth whitening might be able to help. In fact, in most cases whitening treatment through a cosmetic dentist is able to drastically lighten teeth, leaving patients with whiter and brighter smiles!
A Whiter, Brighter Smile Can Help You Feel Younger
If staining or discoloration is your only concern, your cosmetic dentist will likely recommend professional whitening treatment to brighten your teeth and improve your smile's overall appearance. In many cases, professional treatment can lighten teeth by eight shades or more, quickly and safely, creating noticeable results you'll be excited to show off.
A Dentist Can Help You Prolong Your Great Results
Perhaps best of all, professional whitening comes with the expertise of a dentist who can help you prolong your results through a combination of preventive care and dietary advice. Certain foods and beverages are more likely to stain your teeth, for instance. So don't be afraid to ask which you should avoid if you'd like to maintain your dazzling white smile.
Routine dental cleanings are also important to both your oral health, and your smile's appearance. So make sure to visit the dentist regularly for checkups and cleanings.