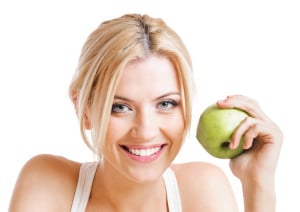 If you have been thinking about porcelain veneers for your smile makeover you are probably already aware of their many benefits. From covering up minor problems like chips or cracks to filling spaces between teeth and offering a whiter smile, this cosmetic treatment is full of advantages. However, we often find that patients become concerned with false "facts" they hear about veneers. Rather than believing everything you hear – or read – allow us to clear up some common concerns about this service, so you can more quickly and confidently make your way toward your best smile:
Concern: Veneers Are Super Fragile
Nope. They are not fragile at all. Though they are made out of thin layers of porcelain, they are actually known for their sturdiness. They aren't quite as strong as your natural teeth but they are pretty close. Thanks to their extraordinary durability, you can expect to enjoy your smile for many years.
Concern: Veneers Will Stain
Again, this is a concern that you do not need to worry yourself over. Porcelain veneers are crafted out of many layers of porcelain. The shells have a very high resistance to staining, which means the white smile you achieve when you receive your veneers will last for a long time. Just remember to care for them consistently like you do your own teeth.
Concern: My Smile Will Look Artificial
One of our favorite benefits of veneers is that they help us provide patients with dramatically improved smiles that still look like their own. The way veneers are crafted is through design that mimics the appearance of your natural teeth. The result? A natural appearance once they are applied.
Concern: Veneers Are Hard to Care For
Not at all. You will need to brush twice daily and floss once, just like before you had veneers. Keep abrasive toothpastes out of your medicine cabinet and the rest remains the same. 
ABOUT YOUR WEST ALLIS COSMETIC DENTIST:
Located in West Allis, WI, Michael E. Flynn, DDS, and his talented team of dental care professionals proudly welcome patients from West Allis, Brookfield, Wauwatosa, and all Western Milwaukee communities. To learn more, or to schedule your next appointment, call Stubbs Family Dentistry today at 414-541-8250.