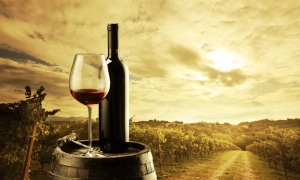 For many people, holidays are a time for celebrating with good food and delicious cocktails. Whether you enjoy the tang of a festive cosmo, the zing of a midori sour, or the depth of a nice glass of merlot, many alcoholic beverages contain colors which will stain your teeth. If your dental health and hygiene is on par, your teeth can weather the occasional dark colored beverage now and again. However, if you have plaque and tartar buildup, tannins will cling to the sticky biofilm and make your teeth instantly tinted. Not the most attractive picture when you're trying to mingle with family and friends. There are ways to enjoy holiday beverages without worrying about embarrassing teeth stains, however.
Seltzer Chaser
The bubbles in seltzer can clean just about anything. Have you ever known someone who used club soda as a solution for any stain? If you are drinking wine or another darkly tinged beverage, keep a can or glass of flavor/sugar free sparking water of some sort on hand. If you swish your mouth with seltzer every few sips of your dark drink, you may find that your teeth remain as sparkling white as an unexpected Christmas day snow storm.
Wine Wipes for Purple Teeth
A bottle of red wine shared amongst friends can truly taste like the nectar of the gods. Wine makes a great gift, and a great enhancement to socialization. Wine has been enjoyed all over the world for many centuries. But what about the aftermath of deep purple stains on teeth which some people have to contend with? If you're hoping to nab a smooch under the mistletoe, you'll want your teeth to stay stain free. Did you know you can actually wipe wine right off of your teeth? In fact, wine wipes are on the market, and designed specifically for this occurrence. Wine wipes can fit in a small purse and make a terrific stocking stuffer.
ABOUT YOUR WEST ALLIS COSMETIC DENTIST:
Located in West Allis, WI, Michael E. Flynn, DDS, and his talented team of dental care professionals proudly welcome patients from West Allis, Brookfield, Wauwatosa, and all Western Milwaukee communities. To learn more, or to schedule your next appointment, call Stubbs Family Dentistry today at 414-541-8250.