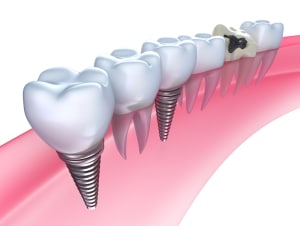 Dentists usually consider lost teeth a significant dental problem that needs to be resolved. The roots of your teeth connect to your jawbone, which provides nutrients to the tooth. Without the roots present, your body will stop sending nutrients to that portion of your jawbone, which can lead to its deterioration. Therefore, a gap in your teeth can cause your cheeks to cave in, your teeth to drift, and more teeth to fall out due to a weakened base of support. The best solution for lost teeth is a dental implant, which can help maintain the nutrient flow to your jaw.
What are Dental Implants?
Implants are posts placed into your jawbone so that your body continues to send nutrients to that area. They are made of titanium and, because of a process called osseointegration, the bone will grow around the post to hold it in place. Implants are therefore sturdier than other options, and are the only treatment for tooth loss that can prevent jawbone deterioration.
Once the post has been placed, you will have to wait a short time for the gums to heal. Once your gums and jawbone have healed enough for the next step, we can attach an abutment to the post, and top that with a crown that replaces the visible portion of your tooth. The crown is made to look as natural as possible to blend in with the rest of your teeth.
Implants can also work if you are missing more than one tooth. In these cases, posts will be inserted at strategic points in your jaw, depending on how many of your teeth need to be replaced over how large of an area. After healing, a denture, partial denture, or bridge can be placed. These prosthetics are usually more durable than removable ones, because of the support granted to them by the implanted roots.
ABOUT YOUR WEST ALLIS DENTIST:
Located in West Allis, WI, Michael E. Flynn, DDS, and his talented team of dental care professionals proudly welcome patients from West Allis, Brookfield, Wauwatosa, and all Western Milwaukee communities. To learn more, or to schedule your next appointment, call Stubbs Family Dentistry today at 414-541-8250.