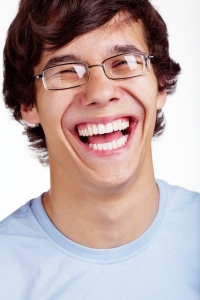 It's about more than just keeping your smile bright and your breath fresh. Good hygiene, i.e., brushing and flossing consistently, is also about keeping your smile healthy, and retaining your natural teeth. The thing is, good dental hygiene is a consistent process. If you slip even once or twice, then your efforts at preventing plaque buildup could fail, and tooth decay, gum disease, and more could soon follow. To properly care for your teeth, you should also maintain a steady schedule of dental checkups and cleanings so we can clean up whatever your toothbrush and floss leave behind.
How often do you brush AND floss?
Since flossing may take a bit longer than brushing your teeth, it's more likely to be skipped if you're rushed in the morning, or especially tired before going to bed. Good hygiene requires that you floss at least once every day, but plaque (and the bacteria it contains) constantly feed on the food particles in your teeth. For optimal results, try to floss every time you brush, though do so carefully to avoid injuring your sensitive gum tissues.
Are you still careful of cavities?
As children we're urged, and often ordered, to refrain from sugars and starches to avoid developing cavities. As we grow older and our parents stop chastising us (as much) for our choices, that care might fade a bit, and your snacking habits can expose your teeth to a greater risk of cavities. Besides passing up the candy, try not to snack too often on anything throughout the day. The more often you eat, the more susceptible you are to cavities, especially if you can't brush and floss afterwards.
Do you visit the same dentist?
Unless you've recently moved, you should have a dentist that you visit regularly, and who knows the unique aspects of your dental health. If you have a family, then that consistency is especially important; every family member has a different smile, and a family dentist can help keep track of everyone's different needs. You're also more likely to maintain a routine schedule of visits if you know, and are friendly with, your dentist.
ABOUT YOUR WEST ALLIS DENTIST:
Located in West Allis, WI, Michael E. Flynn, DDS, and his talented team of dental care professionals proudly welcome patients from West Allis, Brookfield, Wauwatosa, and all Western Milwaukee communities. To learn more, or to schedule your next appointment, call Stubbs Family Dentistry today at 414-541-8250.