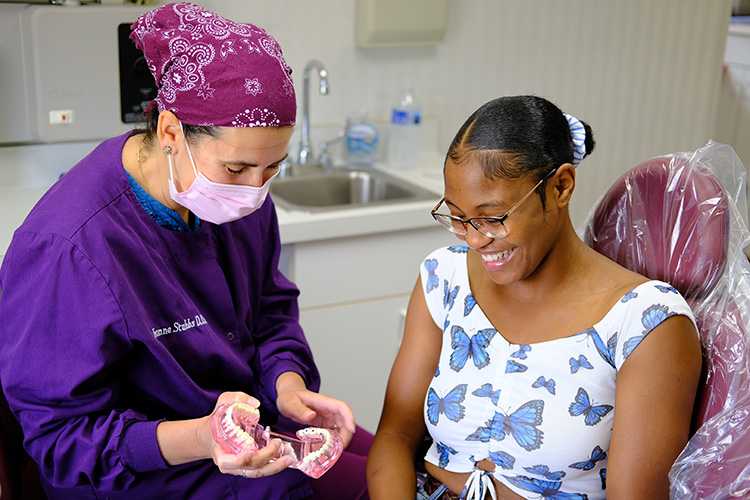 Accidents happen, and when dental issues such as broken teeth, toothaches, or tooth loss occur, we are available to offer you the care you need. Contact us so that we can fit you in at an appointment as soon as possible. Contact us, too, if your emergency happens after hours, as we may be able to see you then, as well.
Kinds of Dental Emergencies
We treat several types of dental emergencies. These include, but are not limited to
Abscessed teeth
Broken teeth
Lost dental fillings
Missing teeth
Severe pain when biting or chewing
Severe toothaches
Dental Emergency Actions to Take Right Away
The first thing you should do is schedule an appointment with us. There are some actions you can do before visiting us that will help protect your tooth and that may lead to a full recovery.
Broken tooth: Rinse off the loose pieces. Apply gauze to the tooth to stop any bleeding. Use a cool, wet cloth to help minimize swelling and discomfort.
Knocked-out tooth: Rinse off the tooth. If possible, put it back in the socket and bite down lightly to keep it in place. If you're unable to do that, place it in water or milk so that it doesn't dry out.
Loose crown: If it falls off, keep it in a cool place so that it doesn't change shape.
Toothache: Rinse out your mouth and floss to help remove any trapped food bits. If that doesn't help relieve your discomfort, take over-the-counter pain medication before your appointment with us.
While these recommendations may help minimize discomfort and save your tooth, they are not substitutions for professional dental care. We can provide the effective treatment you may need.
Contact Us When You Have a Dental Emergency
Call us as soon as possible when you have a dental emergency so we can help relieve you of discomfort. To schedule an appointment, fill out our online form, or call our office in West Allis, WI, at 414-541-8250. We proudly serve the residents of West Allis, Brookfield, Wauwatosa, and all Western Milwaukee communities.