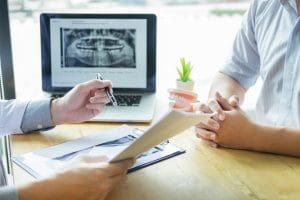 Dental implants require surgery, which can make some patients wary about the treatment. Dental implants are titanium posts that are surgically set in the patient's jawbone. The process typically requires anesthesia and a long recovery time as the implant heals. If you're going to undergo that type of treatment, you want to be sure that you're choosing an option that will last. You may have had to replace dental fillings or crowns in the past. Will you have to do the same with your dental implant? Here's what you can expect from this prosthetic.
Dental Implants Will Last if You Care for Them
Dental implants are built to replace a natural tooth in terms of structure and function. They can also replace a natural tooth in its longevity. With proper oral hygiene, your teeth can last throughout your lifetime. The same is true of dental implants. By consistently brushing and flossing, you can prevent tooth decay and preserve your dental implant. While the surgical treatment timeline for implants is more extensive than other dental prosthetics, the results will stand the test of time.
Dental Implants Replicate Natural Tooth Root Structure
What makes dental implants so strong and durable is their structure. Dental implants are surgically placed in your jawbone. After recovery, your jawbone fuses to the implant and holds it in place, the same way that the roots of your natural tooth bond to your jawbone. This level of security allows you to chew food comfortably with virtually no restrictions. The artificial root structure that an implant creates can also stimulate your jawbone and prevent it from degrading over time, another valuable benefit of the treatment.
No Treatment Can Eliminate the Need for Oral Hygiene
Your dental implants are built to last throughout your lifetime, but you do have to care for them. There is no oral procedure that can eliminate the need for proper oral hygiene. Brushing and flossing your teeth removes bacterial buildup from your teeth and gums. This bacteria is the source of infection that can cause teeth to eventually fall out. By maintaining a daily hygiene routine and visiting your dentist twice per year, you can keep your teeth or implants clean, and extend the life of these oral tissues.
Receive Dental Implants from a Dentist Who Knows
Dr. Stubbs has completed numerous additional workshops and courses, both domestically and abroad, regarding the placement of dental implants. When you receive implants from Dr. Stubbs, he will do all he can to ensure that the implants stand the test of time. To learn about dental implants, schedule a complimentary consultation at Stubbs Family Dentistry in West Allis, WI at 414-541-8250.