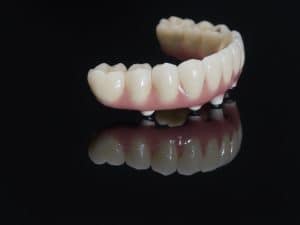 For residents of West Allis, WI, advanced tooth loss could mean serious issues eating and speaking, as well as problems with overall health. In order to offer a strong and lifelike solution to tooth loss, we may recommend a custom-made set of dentures. For added stability and durability, we often secure them with advanced dental implants. Do you have questions about implant dentures, and what it takes to qualify for them?
Frequently Asked Questions About Implant Dentures
Question: What dangers will tooth loss pose?
Answer: When we lose the teeth, the appearance of gaps in your smile could cause surrounding teeth to drift, leading to misalignment. The pressure on the jaw joints due to lost teeth may cause TMJ disorder and bruxism (teeth grinding), further threatening your oral health. Since the body stops supplying the jawbone around a missing tooth with doses of calcium and phosphorus, the jawbone tissue could lose density. Over time, this may mean additional tooth loss and for some, an aged appearance. Addressing your missing teeth is essential for both the health and function of your smile.
Question: Do I qualify for implant dentures?
Answer: We will need to look at the strength of your jawbone. As we mentioned above, untreated tooth loss could mean the loss of jawbone density, which could cause implant failure. However, we may suggest a bone grafting procedure to strengthen the jawbone and enable your smile to support dental implants. Our team will also take gum health in account. Gum disease, or more accurately, the advanced stage of gum disease, could lead to missing teeth. As a result, this too could cause implant failure. We will need to offer treatment to manage the disease before moving forward with tooth replacement.
Question: How do you place them?
Answer: We will insert the dental implant portions into the jawbone in an oral surgical procedure. Over a period of three to four months, the new teeth will bond with the jawbone like a root. Once the healing period passes, we will concentrate on the physical appearance and function of the new smile. Our team will custom-make a bridge or denture, using strong and lifelike materials, and attach them to the dental implants.
Question: How long will they last?
Answer: Since they act as new tooth roots and bond with the jawbone, routine care can help ensure they last for decades, potentially even a lifetime!
Stubbs Family Dentistry Offers Lifelike Tooth Replacement
Dr. Stubbs wants to help you enjoy a whole and healthy smile with implant-retained dentures. Dr. Stubbs understands how a lifelike and durable solution to tooth loss can improve your overall oral health. Schedule a consultation for dental implants at Stubbs Family Dentistry in West Allis, WI by calling 414-541-8250.