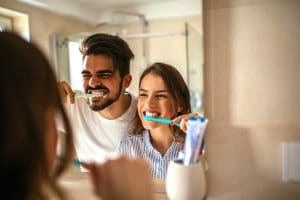 Keeping your natural teeth safe and healthy is a big priority. You only have one set of adult teeth throughout your life, so you want to do all you can to protect them. Taking preventive care of your teeth is the first way to save your teeth. If your teeth do suffer damage from bacteria or a physical accident, dental restorations can repair them. Finally, if damage is severe enough to cause you to lose your tooth, you can find a dental prosthetic to replace the function and appearance of your tooth. Here's a look at what steps you can take to save your natural tooth.
Caring for Your Tooth at Home Keeps Decay Away
Regular preventive care for your teeth is the best way to keep them safe and healthy for life. By brushing and flossing regularly, you can disrupt the formation of bacteria on the surfaces of your teeth. This bacteria will cause decay if left unchecked, which is why it's so important to brush. Combining proper home care with regular visits to your dentist can prevent serious decay as well. Despite regular home care, there are still some areas of your mouth that are difficult to reach. A professional cleaning from your dentist can help.
Dental Restorations Save Damaged Teeth
It's possible that genetics can cause problems for your teeth, even if you take care of them diligently at home. If you do suffer some form of decay or a physical accident involving a tooth, you can still repair it. Dental restorations are solutions that your dentist can use to repair your smile, and the function of your teeth. A dental crown is a protective cap that fits over the top of a vulnerable tooth to protect it from further damage. Dental fillings remove bacteria from your tooth and replace that vacant space with dental resin to keep bacteria away in the future.
A Dental Prosthetic Can Replace a Missing Tooth
There may come a point of no return with a particular tooth. Your tooth may suffer so much bacterial decay that it no longer functions. A dental restoration may not be enough to save your tooth. If you have to have a tooth removed, you don't have to live with a gap in your smile. Your dentist can recommend a dental prosthetic to replace your missing tooth. A dental implant, dental bridge, or set of dentures can give you the ability to comfortably eat the foods you enjoyed before tooth loss. While saving your natural tooth is ideal, a dental prosthetic still gives you the comfort and function that you need.
Preserve the Health of Your Teeth at Stubbs Family Dentistry
Saving your teeth starts with preventive care. Are you brushing twice a day? Are you flossing? When was the last time you visited the dentist? Taking these steps now can save you more expensive treatment in the future. Preserve the health of your teeth at Stubbs Family Dentistry in West Allis, WI by scheduling an appointment at 414-541-8250.