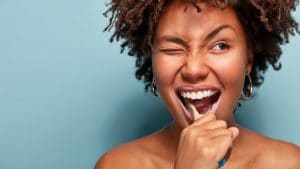 Human health is an interesting thing because you may not always see the symptoms of ailments that are affecting you. Sometimes the sign of sickness are obvious, and other times, your sickness can grow before you notice. Tooth decay is a progressive condition that starts with impossible-to-see bacteria on your teeth. You may not know that those bacteria are growing and beginning to cause damage until you have a cavity. So how can you know that your teeth are healthy? Home care and dentist appointments are where you should start.
Make Biannual Dentist Appointments for Examinations
Examinations with your dentist are a crucial part of your oral healthcare. During your examination, your dentist can visually look over your mouth. He or she can spot any developmental issues, and growing cavities, or any other areas of concern. In addition to using the naked eye, your dentist can use x-rays to see structural issues as well. All of this information allows your dentist to prescribe care and make recommendations about your home cleaning routine. If you miss out on these biannual appointments, your dentist can't offer you professional health!
Adhering to a Home Care Routine Will Give You Peace of Mind
Of course, you also need to take care of your teeth at home, in between visits. Adhering to a home care routine can help you feel at peace about the health of your teeth. Brushing at least twice a day helps prevent bacterial buildup. If you feel educated and informed about how you should be brushing your teeth, you'll know that the preventive steps you're taking at home are working. You should brush before bed, when you wake up, and even after meals when possible. Removing a food source for bacteria keeps them from growing.
If You Notice a Problem, Talk to Your Dentist Right Away
You can take ownership over your oral health. Making biannual appointments is crucial for your oral health, but you should also take notice of the health of your teeth in between visits. If you're noticing pain and sensitivity in your teeth, call your dentist to talk to them about it. If you notice swelling and redness in your gums, don't wait to take action. You know your own health, so if you do feel something, speak up! Your dentist wants you to feel good about the health of your teeth, so feel free to communicate with them.
Michael Flynn Is a Dentist Who Cares
Dr. Stubbs and his staff want patients to have a quality care experienced focused on overall health. Michael Flynn will walk you through your examination and let you know what to look out for. You'll feel better about your teeth after you leave your appointment. Schedule a biannual checkup at Stubbs Family Dentistry in West Allis, WI by calling 414-541-8250.