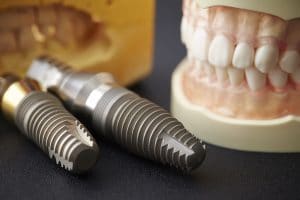 Adult tooth loss is no longer the lifelong burden that it used to be. Dental implants have made it possible to make essentially a full recovery from tooth loss. Implants provide durable tooth replacement. Esthetically they look like your original tooth, and they have the bite power that you need to feel confident in them. If you haven't explored dental implants as an option, it's time for you to learn more about how your tooth loss doesn't have to rule your life. If you are familiar with dental implants, you're probably wondering where to go for your implants. You need to trust an experienced dentist with this procedure for the best results.
Skills and Experience Make for a Better Dental Implant End Result
While dental implants have become a common procedure for those that suffer tooth loss, that doesn't mean it's simple. You want to work with a dentist whose skills and experience can help ensure a smooth process. Dental implants are surgically placed in your jaw bone. This is what gives them the level of integrity that you don't find with dentures or a bridge. The titanium post replicates a tooth rooth and serves as a base for your dentist to add a dental crown or other restoration.
An Experienced Dentist Can Help You Through the Procedure
Your dentist's experience isn't only valuable to their ability to perform the procedure. Trusting a dentist who knows their way around dental implants will benefit you as well. An experienced dentist can address your questions and help you feel good about the process. They can help you decide whether you want local anesthetic or sedation for the procedure. They'll set you up to succeed during the short recovery period after the procedure. The value of experience shouldn't be underestimated.
Dr. Stubbs Has Valuable Dental Implant Experience
Dr. Stubbs has committed himself to providing the best experience he can for his patients. That means consistently trying to improve and learn. Dr. Stubbs's experience at continuing education workshops regarding dental implants both locally and abroad have given him an expertise that will benefit you during your treatment. Call about a dental implant consultation by contacting the Stubbs Family Dentistry office in West Allis, WI at 414-541-8250.