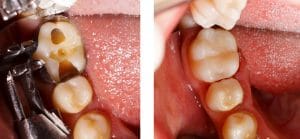 If you're a person who struggles to make and keep dentist appointments because they make you nervous or anxious, you need all the help you can get. You may realize how important these appointments, but the fear of the process, or the hassle of scheduling makes it hard to follow through. Modern dental procedures actually add ease and reduce pain to nearly all treatments, especially fillings. A dental filling is one of the most commonly prescribed treatments for tooth decay. It's the catch all fix for light-to moderate decay and cavities. If you've hesitated to follow through with a filling in the past, it's time to learn how modern dental fillings make it easier and less painful than ever to receive the care you need.
Modern Dental Fillings Add Ease with Quick Turnaround Time
If you've got a busy schedule, you know how hard it can be to make time for an appointment, let alone several of them. Modern dental fillings are quick treatments that don't take a lot of time or additional appointments. These fillings can be performed conveniently, in-office, and they don't require you to take extra time off of work. This is the kind of turnaround time you need to help you keep things simple.
Others Won't Notice Your Modern Dental Filling
Another concern with traditional fillings is that they're particularly noticeable. Traditional fillings were fabricated using a metal or material that would reveal itself quite obviously to others. Modern fillings are created using dental resin — a tooth-colored substance that sets quickly and provides strong fortification to weakened teeth. That way, your filling blends in to the rest of your teeth and won't cause others to notice your restoration.
You Can Trust Flynn Dentistry with Your Modern Dental Filling
If you suffer from tooth decay, you have to take action in order for things to change. If you keep putting off your appointment, the tooth decay and resulting cavity will only worsen. Stubbs Family Dentistry provides high quality restorative care to all ages of patients. If you need a modern dental filling that is easy and comfortable, trust Flynn Dentistry for the job. To make an appointment with Stubbs Family Dentistry in West Allis, WI, contact the office at 414-541-8250 today.