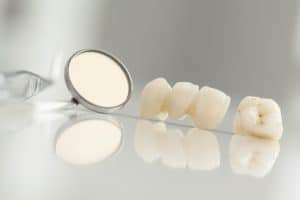 What can you do to recover from tooth loss? It's bound to be the only thought on your mind after suffering from this condition. While you only have one set of adult teeth, you do have options for recovery after something happens. Restorative dentistry can return your teeth to their healthy state, or offer a replacement option for missing teeth. One such restorative option is a dental bridge. Dental bridges are comprised of replacement teeth called "pontics." The pontics fit where your original teeth would have been. Then, on either end of the pontics, a dental crown is attached to your remaining, healthy teeth. This holds the whole apparatus in place and provides you with an effective tooth replacement.
A Dental Bridge May Be Right for You if You Have a Series of Missing Teeth
If you're not familiar with dental crowns, they're typically used to cover and protect damaged or weakened teeth. Crowns serve as an excellent restorative option for a particular tooth that may have been compromised by decay. Meanwhile, a dental bridge is ideal for a sequence of missing teeth. If you've lost several teeth in a row, or they've suffered so much damage that they need to be removed, a dental bridge can provide a replacement.
If You've Lost a Significant Number of Teeth, Dentures May Be Best
If your tooth loss is scattered across your mouth and you've lost a significant number of teeth, a bridge may not be enough to restore your smile and ability to chew foods. In these cases, your dentist may recommend partial or full dentures. Dentures give you a life-like restoration, but can cover a larger area of tooth loss than a bridge could. Choosing the right tooth restoration option for you is about knowing what you need. The best way to determine that is by talking to your dentist.
Don't Let Tooth Loss Continue to Impact You Negatively
Tooth loss does present a difficult situation, but you've got the ability to recover. Restorative treatment options can give you back the ability to eat the foods you love and share your smile with confidence. Talk to Dr. Stubbs and his staff about all of your recovery options after suffering tooth loss. To make an appointment for a consultation, contact Stubbs Family Dentistry in West Allis, WI at 414-541-8250.