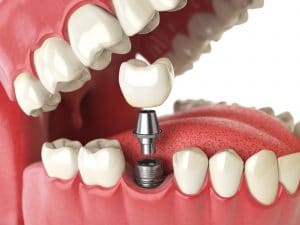 If asked what dental implants replace, the obvious answer would be the teeth that you've lost. However, dental implants are unlike any other prosthetic dental option for one specific reason; they replace what others cannot—the roots of your lost teeth. Dental implants are small, biocompatible posts that are inserted into your jawbone, and then used to support a replacement crown, bridge, or denture. Because they are the only option that mimics your natural teeth roots, dental implants really replace much more than just your smile's appearance, but also your bite's ability to function properly.
The Deeper Meaning of Tooth Loss
Besides supporting the visible crowns of your teeth, your teeth roots also help keep your jawbone strong and healthy. Every time you bite and chew, the stimulated roots signal your body to send your jawbone nutrients. Fewer teeth roots mean less stimulation and fewer nutrients, which can result in increasingly worse dental health and heightened risks of future tooth loss. Traditional dental prosthetics can restore your ability to bite and chew, but they cannot reestablish the benefits that biting and chewing have on your jawbone.
The Benefits of Dental Implants
Dental implant posts are specifically designed to support your custom-designed prosthetic with unmatched stability, eliminating inconveniences like denture slippage. They are also designed to last for life with proper care and maintenance, making them the most permanent solution to rebuilding your smile, as well. By reestablishing support within your jawbone, dental implants are also the only tooth replacement option that can reduce your risks of experiencing further tooth loss due to a weakened jawbone.
Learn More About Replacing Lost Teeth with Dental Implants
If you've lost one or more teeth, then you've also lost their roots, which are an important factor in the long-term health and integrity of your jawbone. To learn how dental implants can replace more than just your smile, schedule your free consultation by calling Stubbs Family Dentistry in West Allis, WI, today at 414-541-8250. We also proudly serve patients living in West Allis, Brookfield, Wauwatosa, and all Western Milwaukee communities.