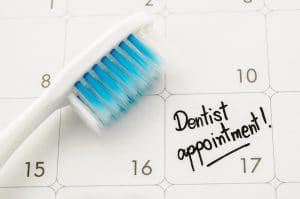 Do you want to spend the rest of this year enjoying great oral health? If so, brushing your teeth twice a day is a good start. Flossing is also important, though, and it's an easy and affordable way to protect your precious pearly whites. That said, you should also be seeing your dentist at least twice a year, if you want to avoid pesky dental problems like cavities and even gum disease. These are both prevalent issues, yet they're largely preventable with proper oral care. Regular preventive appointments are an important part of that equation. They're also cost effective and relatively quick ways to protect both your teeth and gums. So, if you care about your smile, and keeping it in the best shape possible, make sure you're seeing the dentist regularly for key preventive care!
Routine Checkups and Cleanings Are Crucial
What makes routine dental visits so necessary, even if you are already brushing and flossing regularly? Plaque bacteria can harden onto the surface of the teeth quickly, and once it is there, this tartar buildup can only be removed through professional cleanings. To avoid acidic erosion, which can lead to cavities, tooth discomfort, and even infection, it is important to schedule at least bi-annual checkups and cleanings. During these visits your dentist can check for burgeoning issues, and recommend restorative treatment if necessary.
Keep Your Smile Looking Its Best
Some patients are genetically predisposed to tooth decay. Others are more likely to develop cavities or even gum disease, as a result of underlying health conditions, as side effects of medication or other mitigating factors.
Though bi-annual checkups are often recommended, it is important to be candid with your dentist about nay concerns you might have regarding your smile, and open to his or her advice about what kind of preventive treatment is actually necessary to adequately protect your smile.
Want to Protect Your Smile?
Dr. Stubbs can help protect your smile from cavities and other common dental issues. To schedule a preventive appointment with Michael E. Flynn, DDS, call our office at 414-541-8250. Our office gladly welcomes patients from West Allis, Brookfield, Wauwatosa, and all Western Milwaukee communities.