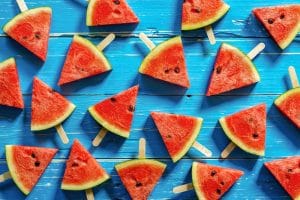 Now that summer has officially kicked off, you might find yourself spending more time away from home. That likely means spending more time in the wonderful but warm outdoors. To keep cool, you may be packing lots of picnics or attending neighborhood pool parties. Have you considered what options are healthiest for fueling your summer fun? If not, consider these smile-healthy summer choices, perfect for dining outside!
Fresh Veggies and Fruit Are Refreshing and Good for Oral Health
Summer is a great time to enjoy fresh produce, since so many items are in season. Besides having great flavor, fresh produce is rich in nutrients, making it a healthy choice for one's body and one's smile. Most vegetables and fruits are also high in water content and relatively low in sugar, both of which are particularly beneficial to dental health.
So, what kind of snacks should you reach for this summer?
Crisp, cold chopped vegetables are refreshing choices on hot summer days. Celery and carrot sticks are great options, but so are bell peppers, cauliflower and broccoli. Pair them with a yogurt-based dip or hummus for some added protein.
Fresh fruits are popular choices year-round, but particularly during the summertime, when many can be found in-season. Slices of cantaloupe or watermelon are always a hit at backyard barbecues. Pineapple is another popular choice that's naturally sweet, and fresh berries are another great option.
Be Careful When Eating Frozen Items!
While frozen foods, like ice cream and popsicles, can be refreshing on hot days, some frozen items can be dangerous for teeth. Anything too hard can be damaging to teeth, potentially leading to chips, cracks or other damage that could require restorative dentistry. So be careful when enjoying anything frozen.
Preventive Care Is Key to Oral Health
Preventive dentistry helps to protect teeth and gums from dental health threats, like cavities. To schedule a preventive appointment with Michael E. Flynn, DDS, call our office today at 414-541-8250. Our office gladly welcomes patients from West Allis, Brookfield, Wauwatosa, and all Western Milwaukee communities.