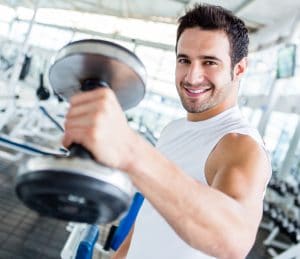 Are you someone focused on achieving a healthy and fit body? If so, what steps have you taken to reach your goal? You have likely changed your diet, your exercise routine, and may have also become more active, in general. You might have even hired a personal trainer or coach, or joined a fitness group or athletic team, in order to spend even more time dedicated to becoming super fit. But do you ever wonder what you should be doing to better care for one of your greatest assets, your smile? Your dental health is important to both your confidence and appearance, as well as your overall health. Since the bloodstream connects your gums to other vital organs, it is important to make sure both your teeth and gums get the preventive care they need. That way you can enjoy a healthy body and a super smile!
Don't Skimp on Dental Hygiene
One effective way of caring for your smile is by sticking to a diligent dental hygiene routine, (and routine dental checkups). Just as dedication to physical training is important, your smile also needs you to be consistent in your oral care. This means brushing your teeth at least twice a day, though brushing after snacks (or protein shakes) can be helpful, as well.
It also means flossing at least once every single day. Combined, these two simple steps help to remove bacteria from the mouth, lessening the likelihood of unsightly and acidic tartar buildup, which can contribute to inflammation of the gums, and cause cavities, as well.
So, make sure you are brushing and flossing every day.
Just remember, even healthy people need to see the dentist regularly. This means scheduling bi-annual checkups and cleanings should be an important part of your efforts to remain healthy and fit!