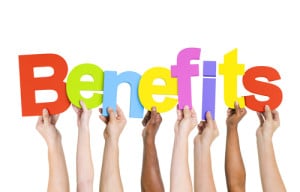 You may need a dental crown if your tooth is suffering from decay or damage, or maybe to cover a dental implant. These cap-like "teeth" are widely used to restore teeth in order to optimize your oral health. Made out of different materials such as; porcelain, metal, and porcelain-fused-to-metal, crowns give your teeth additional strength. Each one is custom made to fit snugly over your natural tooth (or implant), providing a natural look, feel, and function. That's not all – dental crowns have an extensive list of benefits when it comes to restoration.
Advantages Of Dental Crowns
Stain Resistance: If you choose to go with a porcelain dental crown, the material doesn't absorb colors that would normally stain your natural teeth. You won't have to worry about any discoloration with your restored tooth.
Durability: Assuming you're practicing excellent oral hygiene and aren't applying excessive pressure or anything, your restored tooth could last from 5 to 15 years.
Cosmetic Appeal: Porcelain and porcelain-fused-to-metal are both dental crown materials that closely resemble the look of natural teeth, creating a seamless smile. You'll probably be the only one who knows it's not your natural tooth!
Protection: Dental crowns cover the entire visible portion of your tooth, ending at your gum line. These caps offer protection for a tooth that is already damaged, but also keeps other bacteria at bay to keep it from worsening the condition.
Functionality: After placing this "cap" over your damaged tooth, it is cemented for stability. Unlike other restoration options, you won't have to worry about shifting or sliding. This allows the crown to function just as your natural tooth did, too!
If you're experiencing any symptoms of tooth decay, infection, or damage – dental crowns may be able to help you. The sooner you're able to make an appointment, the easier your tooth restoration can be!