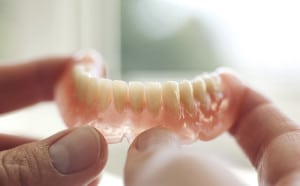 Whether you are staring at one open space in your smile or a full arch of missing teeth when you look in the mirror, your reflection can cause you to feel completely overwhelmed. The good news is that we offer full and partial dentures to patients who are looking for immediate tooth replacement (and, of course, all of the wonderful benefits that come with addressing your tooth loss). Not sure where to begin? Convinced that dentures should be reserved as a last resort? If so, it's time you learn more about these prosthetics that are sleek and modern, thanks to advances in dental care and technology. You will find that dentures work wonders for patients of all ages and smile goals.
What Are Full Dentures?
Full dentures are easy to remember – they replace a full arch suffering from complete tooth loss. You may wear an upper or lower denture independently or you may wear both at the same time. A full denture is composed of a base made of high-quality acrylic. It will reflect a pink tone to blend with your palate and gum tissue. Within the base will rest a full set of high-grade acrylic or porcelain teeth that have been customized to fit the dimensions of your smile, while offering a beautiful, natural finish. You will wear the denture over your dental ridge, where it will receive support from natural suction in your mouth.
What Are Partial Dentures?
Full and partial dentures are somewhat self-explanatory, thanks to their names. Partial dentures, as the name suggests, replace partial tooth loss. In this case, partial loss may refer to a single tooth, multiple teeth side by side, or teeth scattered across your arch that are separated by remaining natural teeth. The partial will be made up of a small amount of pink acrylic and metal clasps – it will rely on both suction and support from remaining teeth. Artificial teeth replacements will fill openings, while the device will also leave room to accommodate for remaining teeth. Both full and partial dentures are both removable, so you may decide when you wear them and when you remove them from your mouth.
ABOUT YOUR WEST ALLIS, WI COSMETIC DENTIST:
Located in West Allis, WI, Michael E. Flynn, DDS, and his talented team of dental care professionals proudly welcome patients from West Allis, Brookfield, Wauwatosa, and all Western Milwaukee communities. To learn more, or to schedule your next appointment, call Stubbs Family Dentistry today at 414-541-8250.