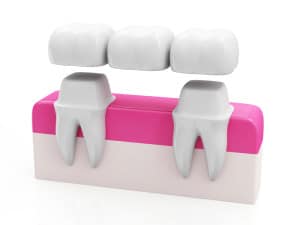 Have you been looking into your options for replacing the teeth you have lost? This is often a long journey for patients who are not quite sure where to begin, since there are so many available and wonderful solutions. If you have been considering restoring the structure and beauty of your smile with a dental bridge then it is a good idea to learn more about when you should choose this dental prosthetic. The more you know about the replacement you're considering, the greater your ability to feel confident about your final choice.
If A Bridge Sounds Good
It's important to learn a little bit more about dental bridges to make sure you like the idea. A bridge is composed of a series of artificial teeth. On either end rests a dental crown, which is a hollow tooth that we will cement over the natural tooth on either side of the open space in your smile. We call these teeth the abutment teeth or the anchor teeth because they support the bridge. The artificial teeth between the crowns are called pontics, which complete your smile.
If You Want Fixed Treatment
A good reason to consider choosing a dental bridge is if you want fixed treatment. This means that unlike dentures, which are removable, the bridge will remain in place day in and day out. We will bond the crowns to your teeth, so you can eat, brush, floss, and never worry about taking your prosthetic in or out. The only way to remove the bridge will be with our assistance.
If You Are Missing Up To Three Teeth
A good reason to choose a dental bridge after tooth loss is that you are missing the proper amount of teeth – and configuration of teeth – required for a dental bridge. As for the amount of teeth, you may replace one tooth or up to three teeth with a bridge. However, they cannot be spaced apart by other teeth. We can only use a bridge to replace teeth that are missing all in a row.
ABOUT YOUR WEST ALLIS, WI COSMETIC DENTIST:
Located in West Allis, WI, Michael E. Flynn, DDS, and his talented team of dental care professionals proudly welcome patients from West Allis, Brookfield, Wauwatosa, and all Western Milwaukee communities. To learn more, or to schedule your next appointment, call Stubbs Family Dentistry today at 414-541-8250.