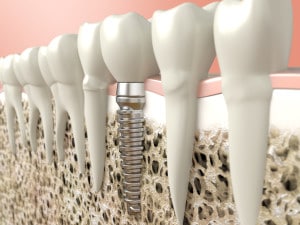 Have you been looking into replacing your missing teeth? If so, we are happy you have made this decision. Completing your smile provides you with a long list of advantages, including protecting your smile alignment, protecting your jaw health, improving your confidence, and improving your ability to eat and speak. Fortunately, if you're considering dental implants to complete your smile, you will be happy to learn that they can replace most patterns of tooth loss. Learn more for a clearer understanding of how implants may work for you.
A Single Tooth
You may choose to replace a single tooth with a dental implant. You may also replace many single teeth – just individually – if you prefer. This works by placing a single dental implant post in each empty space where a tooth once resided. Once the post fuses with your jawbone (this is called osseointegration) we will top (or "restore") your post with a dental crown. Rest assured, we will customize the dental crown's color and shape to blend with your smile's appearance as well as its dimensions.
Multiple Teeth
Are you missing two or three teeth in a row? If so, we may provide you with an implant-retained bridge. This means that rather than solely relying on the support of anchor teeth surrounding the opening in your smile, we will place implant posts to provide support to the bridge. Or, if you are missing multiple teeth spread across your arch, we may recommend restoring implants with a partial denture, which requires a smaller investment that replacing each individual tooth.
A Full Arch Of Teeth
Hoping for the stability of dental implants but you would like to replace one or both arches of teeth? If you suffer from complete tooth loss, you may choose to restore your smile with a full denture. In this case, we will not support the denture with an implant placed in every single socket. Instead, we will strategically place fewer implants than missing teeth to support the larger prosthetic.
ABOUT YOUR WEST ALLIS, WI COSMETIC DENTIST:
Located in West Allis, WI, Michael E. Flynn, DDS, and his talented team of dental care professionals proudly welcome patients from West Allis, Brookfield, Wauwatosa, and all Western Milwaukee communities. To learn more, or to schedule your next appointment, call Stubbs Family Dentistry today at 414-541-8250.