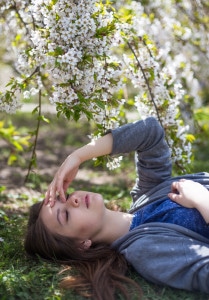 Here is a startling fact: about 25 percent of people diagnosed with oral or oropharyngeal cancers neither drink nor smoke. It may be stereotypical, but when you think of oral cancer you think of a middle-aged man with a cigar hanging out of his mouth. That's not the case.  Oral cancer is on the rise, and although it may be surprising, young non-smoking, non-drinking women can present with it. Oral cancer is not just for smokers. Does your dentist check for it?
Yes, We Do
Forty-six thousand people are diagnosed annually with oral cancer in the United States. Statistics indicate that nearly half of those diagnosed will succumb to the disease within five years. But there is also good news. When detected in the early stages, oral cancer has a survival rate of 80 to 90 percent. At Michael Flynn dentistry, Dr. Stubbs will examine your mouth and throat for signs of oral cancer while he examines your teeth.
Signs and Symptoms of Oral Cancer
Dr. Stubbs will evaluate you for any lesions or discolored areas in your mouth, throat, or on your lips, and tongue, and if he notices a problem a biopsy will be taken. Precursor cancer lesions can be white (leukoplakia) or red (erythroplakia). Although erythroplakic lesions have a greater potential to become cancerous, any lesion that does not heal within a two-week period should be evaluated. Other signs and symptoms of oral cancer include:
A  lump or thickening of the soft tissues
Soreness in your throat or a feeling that something is caught in your throat
Difficulty chewing or swallowing
Ear pain
Difficulty moving your jaw or tongue
Hoarseness
Numbness of the tongue or other areas of the mouth
Swelling of the jaw
Ill-fitting dentures
ABOUT YOUR WEST ALLIS COSMETIC DENTIST:
Located in West Allis, WI, Michael E. Flynn, DDS, and his talented team of dental care professionals proudly welcome patients from West Allis, Brookfield, Wauwatosa, and all Western Milwaukee communities. To learn more, or to schedule your next appointment, call Stubbs Family Dentistry today at 414-541-8250.