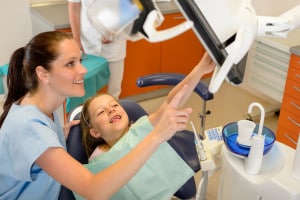 Advances in dentistry are being made all the time. There are active studies, research, material design, and procedural developments happening as we speak. You may not give much thought to the field of dentistry, but the field of dentistry gives much thought to its consumers. Your teeth are important to your overall health, and dental scientists and researchers are always working to develop easier, faster, and pain-free procedures and dependable materials that last longer. There have also been significant advances in technology for your teeth.  
Technological Advancements
Advanced dental technology makes it easier to keep your teeth clean and healthy and to discover potential problems before they develop. Some of the technology Dr. Stubbs offers includes:
DIAGNOdent® laser cavity detection: The DIAGNOdent® is laser technology that detects caries via fluorescence. Healthy tooth structure exhibits little or no fluorescence when subjected to a wavelength of 655 nm, but caries exhibits fluorescence proportionate to the decay and is indicated by elevated readings. Because tiny cavities and lesions can be detected below the surface of your teeth using DIAGNOdent® technology, Dr. Stubbs can provide treatment that would be less invasive than if the damage were more widespread.
Digital x-rays: Over the years many patients have avoided dental x-rays due to concerns about radiation exposure. Digital x-rays have reduced exposure to radiation by 90 percent. Digital x-rays also provide higher quality images and are sent to a computer which is easier to view. The pictures can be enlarged and magnified. They are environmentally friendly because there is no film to develop so the use of chemicals has been eliminated. They save space because they are stored on the computer. Programs have been developed that allow your dentist to compare the most recent images to past images to detect even the most subtle changes.
ABOUT YOUR WEST ALLIS COSMETIC DENTIST:
Located in West Allis, WI, Michael E. Flynn, DDS, and his talented team of dental care professionals proudly welcome patients from West Allis, Brookfield, Wauwatosa, and all Western Milwaukee communities. To learn more, or to schedule your next appointment, call Stubbs Family Dentistry today at 414-541-8250.