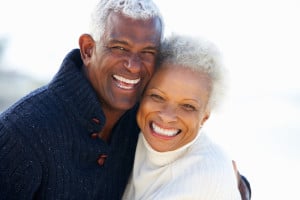 Are you afraid that as you age you will need dentures? If you take care of your teeth you may not. Losing your teeth is not a natural part of aging. The major reason for tooth loss is periodontal disease and, in most cases, periodontal disease can be avoided. More and more people are keeping their teeth into old age due to proper dental hygiene. In fact, according to statistics, 52 percent of adults over the age of 65 still had most of their natural teeth in 2003. That is quite the flip-flop considering that back in the 1950s over 50 percent of adults over 65 were edentulous (toothless). Aging presents seniors with their own set of dental health issues but if they continue to take special care of their teeth, their teeth will age with them. Check out our dental facts for seniors.  
Seniors Facts
Fact #1: Aging teeth and gums can present seniors with a unique set of oral health problems.
Fact #2:  Health issues that can develop with age and affect dental health include cancer, diabetes, arthritis, and heart disease, among others.
Fact #3: Diabetics are at higher risk for gum disease due to the high sugar levels in their saliva. Harmful bacteria metabolize the sugars producing bacterial plaque which can lead to periodontal disease.
Fact #4: Medications that are common for aging people can promote dry mouth which can lead to tooth decay.  Such medications include cholesterol medications, antacids, aspirin, and chemotherapy medications.
Fact #5: Nine out of 10 adults over age 60 take at least one prescription medication. People in this age category should be aware of the oral health risks caused by medications which include:
Dry mouth
Thrush
Loss of taste
Teeth stains
Darkened teeth
Root decay
Periodontal disease
Jawbone atrophy
Tooth loss
Oral cancer
ABOUT YOUR WEST ALLIS COSMETIC DENTIST

:
Located in West Allis, WI, Michael E. Flynn, DDS, and his talented team of dental care professionals proudly welcome patients from West Allis, Brookfield, Wauwatosa, and all Western Milwaukee communities. To learn more, or to schedule your next appointment, call Stubbs Family Dentistry today at 414-541-8250.