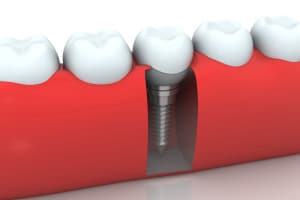 We are often excited to find that patients take the decision to replace their missing teeth seriously. If you have been doing your homework and have chosen dental implants to complete your smile, you have likely discovered the many benefits offered by these prosthetics throughout your research. However, we also realize that patients often become a bit concerned when they find what seems like a perfect treatment but are not sure whether they qualify. To find out more about whether you make a suitable candidate for implants, uncover some important information with the following quiz:
Implant Candidacy Quiz: True or False?
True or False: You can only replace one to three missing teeth with dental implants.
True or False: Dental implants require a surgical procedure, so you will need to be in good enough health for surgery.
True or False: Anyone can receive implants, even patients with damaged jawbones.
Implant Quiz Answer Key
False. One of the great things about implants is that patients with any configuration of missing teeth can reap the benefits of this dental solution. This is possible because we can place a single implant in each open space and restore it with a dental crown. However, if you would prefer fewer implant posts that support a denture or partial, this is also a possibility.
True. Unlike other prosthetics that do not require surgery, you will need to be physically healthy enough to undergo the procedure. We may speak with you about your health history and any medications you are on before moving forward.
False. If you have suffered from jawbone deterioration, you are not immediately ready for dental implants. However, you may be a candidate for bone grafting, which can prepare your jawbone to support the implants. Otherwise, we will discuss alternate solutions to complete your smile.
ABOUT YOUR WEST ALLIS COSMETIC DENTIST:
Located in West Allis, WI, Michael E. Flynn, DDS, and his talented team of dental care professionals proudly welcome patients from West Allis, Brookfield, Wauwatosa, and all Western Milwaukee communities. To learn more, or to schedule your next appointment, call Stubbs Family Dentistry today at 414-541-8250.