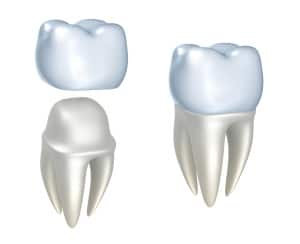 We often find that patients come to us with a lot of assumptions and even more questions when it comes to crowns. Rather than asking you to wait until you may need one, we have gathered information to clear up your misconceptions about dental crowns so you have a better understanding of how they may benefit your smile. The more you know ahead of time, the more optimistic and relaxed you can feel during your visits with us. However, remember that we are always happy to answer your questions during an appointment, so please feel free to ask away. In the meantime, learn more with the following questions and answers:
Dental Crown Questions and Answers
Question: Why have you recommended a crown?
Answer: A crown covers your entire tooth, offering exceptional support, stability, improved structural integrity, and often providing a beautiful finish. If we suggest a dental crown it is either because your tooth has suffered severe cosmetic damage that we cannot address with veneers or because your tooth can no longer stand on its own in your mouth.
Question: Should I be excited about my crown?
Answer: Yes, we often suggest a crown as a last option before an extraction becomes necessary. For instance, if you undergo root canal treatment, we will cover and protect your remaining tooth with a crown so you can retain that tooth, while protecting it from future bacterial invasion. Or, if your tooth has suffered severe tooth decay or significant damage to the point that we cannot use a filling or other restoration, a dental crown may rescue your tooth, while preventing the need for an extraction.
Question: How does a crown work?
Answer: A crown is a hollow artificial tooth that fits permanently over your natural tooth. We will take impressions of your top and bottom arches to ensure you receive a crown that fits with your bite. A skilled technician at a dental lab will create your dental crown out of one of several materials, which we will choose based on the needs of your individual tooth (whether it is visible, how much pressure it withstands on a daily basis). Materials may include porcelain, porcelain-fused-to-metal (PFM), or metal.
ABOUT YOUR WEST ALLIS COSMETIC DENTIST
:
Located in West Allis, WI, Michael E. Flynn, DDS, and his talented team of dental care professionals proudly welcome patients from West Allis, Brookfield, Wauwatosa, and all Western Milwaukee communities. To learn more, or to schedule your next appointment, call Stubbs Family Dentistry today at 414-541-8250.