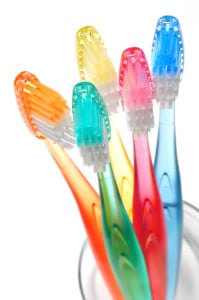 You know that visiting us at least twice a year for checkups and dental cleanings is extremely important to keeping your smile healthy and beautiful. As for our contribution to your oral health, we have the techniques and instruments to thoroughly remove plaque from your teeth, while monitoring changes before damage occurs. But do you know what you need to do to keep up your side of preventive care? When it comes to home efforts, feeling educated and informed on what you need to do on a daily basis is also an essential part of avoiding dental disease, for a smile that remains in wonderful condition for years to come. Test your knowledge with the following quiz.
True-or-False Preventive Home Hygiene Quiz
True or False: You need to brush at least once a day to keep your teeth clean.
True or False: The harder the toothbrush bristles, the more effective.
True or False: The ideal brushing time is approximately two to four minutes each time you brush your teeth.
True or False: Your gumline needs brushing, too.
True or False: As long as you brush at least twice, you don't need to worry about flossing.
Quiz Answer Key
False. You need to brush at least twice daily to ensure you successfully remove plaque and debris from your smile. If you can work it in, we also encourage you to rinse your mouth after you eat and then brush 30 minutes later for even more impressive results.
False. Medium or hard bristles may damage the outermost layer of your teeth, known as enamel. You should always reach for a soft-bristle head for gentle yet thorough cleaning.
True. By timing yourself for a while, you become familiar with what it feels like to brush for an effective length of time. Sessions briefer than two minutes will not allow you to thoroughly address plaque.
True. Angle your toothbrush 45 degrees in the direction of your gumline as part of your brushing technique. Sweep away from your gums to remove plaque as a simple means of preventing gum disease.
False. You should floss at least once a day.
ABOUT YOUR WEST ALLIS COSMETIC DENTIST:
Located in West Allis, WI, Michael E. Flynn, DDS, and his talented team of dental care professionals proudly welcome patients from West Allis, Brookfield, Wauwatosa, and all Western Milwaukee communities. To learn more, or to schedule your next appointment, call Stubbs Family Dentistry today at 414-541-8250.