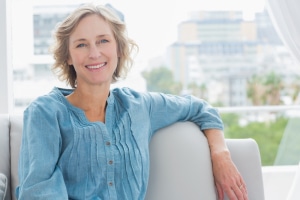 We recognize that tooth loss is often a traumatic experience for our patients. Whether you are missing a single tooth, multiple teeth, or a substantial amount, the loss may take a significant toll on your daily quality of life and the way you feel about your appearance. First, missing even one tooth can make for challenging speaking, eating, and daily hygiene. Additionally, you may feel embarrassed to speak with others for fear that they may notice the open space in your smile. Rather than continuing to allow the need for teeth replacement to negatively impact your life, speak with us about your tooth replacement solutions. By restoring the look and function of your smile, you can enjoy improved self-esteem and the ability to move comfortably through the day. Learn more with the following FAQs:
Frequently Asked Questions About Tooth Loss
Question: Does a missing tooth cause more than a cosmetic problem?
Answer: Yes. In addition to disrupting the uniformity of your smile, even one missing tooth can cause problems. First, you may find that food becomes trapped in the open space. Also, your remaining teeth will likely shift into the open space. This will result in a misaligned smile.
Question: Can you replace my entire tooth, roots and all?
Answer: For qualifying patients in satisfactory health and with strong jawbones, we may offer dental implants. This tooth replacement solution restores your tooth's roots. We will complete the treatment with a dental crown or other prosthetic to restore the portion of your tooth or teeth that rest above the gumline, as well.
Question: Can you replace many teeth or even a full arch of teeth?
Answer: Yes. For one tooth or up to three teeth side by side, we may suggest a dental bridge. This is a fixed solution that restores your smile. Or, we may suggest removable complete dentures for full tooth loss or partial dentures for partial but significant loss. We will provide you with the solution that best fits your needs and goals.
ABOUT YOUR WEST ALLIS COSMETIC DENTIST:
Located in West Allis, WI, Michael E. Flynn, DDS, and his talented team of dental care professionals proudly welcome patients from West Allis, Brookfield, Wauwatosa, and all Western Milwaukee communities. To learn more, or to schedule your next appointment, call Stubbs Family Dentistry today at 414-541-8250.