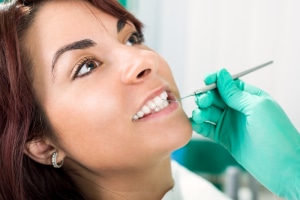 When our automobiles become dirty, either inside or out, most of us take them immediately to the car wash and give them a thorough washing and vacuuming. Your teeth are no different and should be of a greater concern, given their importance and their susceptibility to decay. The problem with relying on these methods alone for tooth maintenance is that they do not extend to most hard to reach areas. These blind spots reside under the gum line, behind your teeth, and in the blind spots that a brush or floss cannot clean, and your best shot at reaching them lies in attending your regular dental cleanings.
Frequency of Visits
Patients who are anxious about teeth cleaning may have never had one performed. Or, they see their dentist so infrequently that they typically need additional treatment each time they visit. For the most part, brushing and flossing your teeth at least twice every day can keep your teeth sufficiently clean between cleanings. Yet, if you wait too long, the plaque you miss can lead to tooth decay, bad breath, gum disease, or worse. Generally, you should have your teeth cleaned no fewer than two times a year, though we might suggest visiting more often if your teeth and/or gums need additional attention.
The Procedure
A simple teeth cleaning procedure can last anywhere from half an hour to an hour and a half, depending on how long it has been since your last appointment. We'll use advanced imaging technology to literally see through your teeth and catch any signs of current or potential problems. The procedure usually begins with an ultra-sonic instrument. The buffer, or tooth polisher, will help us remove plaque and provide a more thorough cleaning. Next, your hygienist will use a special device to remove the tougher plaque and tartar from your teeth and gum line. The finishing touches will include a final polishing to leave your teeth especially clean, smooth, and bright.
ABOUT YOUR WEST ALLIS DENTIST:
Located in West Allis, WI, Michael E. Flynn, DDS, and his talented team of dental care professionals proudly welcome patients from West Allis, Brookfield, Wauwatosa, and all Western Milwaukee communities. To learn more, or to schedule your next appointment, call Stubbs Family Dentistry today at 414-541-8250.