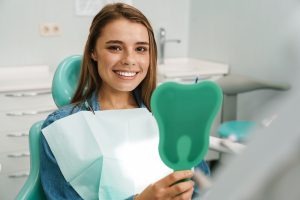 Has too much time passed since you last had a preventive dental appointment? Unless you are following your dentist's directions by following a different schedule, you should make a point of scheduling preventive care every six months. These regular appointments provide valuable feedback about the state of your smile, and they can deliver prompt care when a problem has only just developed. Our West Allis, WI dentist's office is happy to meet with you so that you can receive important updates about the condition of your smile, as well as treatment whenever necessary.
How Long Ago Did Your Last Dental Exam Take Place?
If you have gone more than six months without a dental checkup, you should make treatment a priority. Waiting too long to undergo preventive services will leave you open to several issues. One is that you can experience an excess buildup of tartar, something that can put you at risk for dental problems and negatively affect how you look. Another is that if you have an issue with tooth decay or gum disease, going without treatment can leave you vulnerable to complications that change the kind of care you require. At your regular appointments, your dentist will thoroughly evaluate you to make sure you have no issues that require our help!
What To Expect During Your Checkup
At a routine appointment, your smile will be cleaned and closely checked for problems. The reviews that we provide alert patients to problems with dental decay as well as issues like gum disease, problems with poor jaw movement, and more. The timely detection and treatment of problems that you have will help you avoid complications that make restorative dental work more complicated. The regular teeth cleanings that you will undergo during routine visits will help you prevent difficulties at future visits.
When You Need Restorative Treatment
What will happen if your dentist identifies a problem at your appointment? Once trouble is spotted, we will look for the most conservative approach we can take to restoring your smile and oral health. Cavities are a common issue addressed during routine visits. At our practice, we can talk to you about restoring your oral health with a filling or crown that can successfully imitate your healthy enamel.
Talk To Your West Allis, WI Dentist To Schedule Your Next Visit
At every routine dental checkup, you will enjoy important support from Dr. Stubbs. These visits lower your risk for future problems, but when an issue is present, we can identify it and promptly provide care. If you have questions about our services, or if you are due for your next routine visit, please reach out to your West Allis, WI, dentist, Dr. Stubbs, by calling us at 414.541.8250.