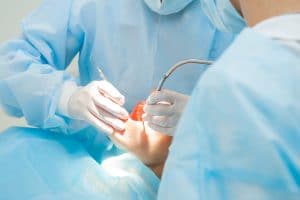 Preparation is the best practice when it comes to staying safe. The nature of an emergency means that it is something you can't plan for specifically. However, you can have an idea of what to do before an emergency occurs. When it comes to your teeth, having an emergency dentistry plan can be the difference between keeping your tooth and losing it. In today's blog, we cover some basic scenarios to help you create a plan in case of a dental emergency. The more you know, the better prepared you can be.
Remain Calm and Move Quickly When Losing a Tooth
Probably the most common dental emergency scenario that you would worry about is losing a tooth. No one wants to lose their teeth, and the experience can be traumatic. The most important thing that you can do when you suffer an accident that causes you to lose a tooth is to remain calm and work quickly. Keep the tooth moist if possible. You may try to replace it in the socket without touching the roots of the tooth. If that's not possible, use a tooth preservation product, or hold it between your cheek and gums. Contact your dentist immediately and try to receive care as quickly as possible. It may be possible for your dentist to simply reimplant your tooth.
If Something Gets Stuck in Your Teeth or Mouth, Use Floss
The dental tools that you already own and use are often the best instruments for any oral hygiene job. Dental floss is used to clean tooth surfaces as part of a normal care routine. If you get something stuck between your teeth, or between your tooth and gum, or even within your mouth, try using dental floss to remove the object first. Dental floss is gentle and will not create an additional hazard. Using a sharp, pointy instrument to try to pry the object out may cause pain or an infection.
Have an Emergency Dentist at the Ready
There are certain steps that you can take to preserve your teeth during a dental emergency, but the most important thing you can do is to have a trusted emergency dentist at the ready. Time is of the essence when you lose a tooth, and having a quality dental professional who's ready to help in your moment of need is invaluable. Work out who your emergency dentist is, and have a plan in place for how to contact that person and receive care before you ever deal with missing teeth or injured jawbones.
Dr. Stubbs Wants You to Stay Safe
Dr. Stubbs and his team take a holistic approach to oral healthcare. They want you to stay safe and healthy, even in cases of dental emergencies. Be sure to have a plan in place before you suffer an accident. Being prepared is the best step you can take. Talk to Dr. Stubbs about emergency dentistry by contacting Stubbs Family Dentistry in West Allis, WI at 414-541-8250.